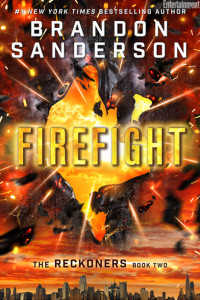 Shorter review again. I'm going to be doing lots of these so I can review a higher percentage of the books I read.
Steelheart wasn't my favourite Sanderson book – not because it wasn't good, but I don't find superheroes or YA or endless action that compelling, especially given Sanderson's skill for elaborate worldbuilding and cool magic systems. But he's pretty much my favourite author, so I'll read anything by him and like it. That being said, Firefight was pretty darn awesome.
David has achieved his goal of killing the Epic that murdered his father, but in the process, he's also realized that Megan, the girl he's kind of in love with, is actually Firefight, a High Epic with the same innate evil as every other Epic. David is never one to give up on the impossible, though, and armed with his infectious enthusiasm and groan-worthy metaphors, he sets out to rid Babilar (once New York City) of its ruling Epic, Regalia – while also searching for Firefight, who has already murdered one member of his team.
We get (some) answers to what's going on with the Epics and their powers and weaknesses, and it all makes sense in the way that only Brandon Sanderson can do magic systems. The action is fantastic, and David's eagerness and self-assurance are irresistible (and slightly horrifying, I was convinced he was going to get himself killed every other chapter). I know I pretty much end every book series review with "I want the next book", but dammit, I want Calamity now, not Spring 2016!
Edited to add: Here's a preview of Firefight on audio.
---
Firefight by Brandon Sanderson (The Reckoners, #2)
Delacorte Press, 2015 | Buy the book

---