Movies Watched: Feb 11 – Feb 20, 2016
[Feb 11] "Moscow on the Hudson" (1984)
This was one of the most memorable movies I've watched over the last few months. It stars Robin Williams as a Soviet immigrant (or defector, since the USSR didn't really encourage immigration) adjusting to his new life in the U.S. I thought this was going to be a comedy, but it was actually a really poignant story (and very relatable to me, I have my US citizenship interview next month!). It also features a bunch of other immigrants and their stories – from the Cuban lawyer to the other Soviet and European immigrants, and the ways they deal with this strange new country that's so much better in many ways but really alienating in others. I highly recommend it.
[Feb 12] "No Strings Attached" (2011)
Silly romantic comedy starring Natalie Portman and Ashton Kutcher as two people that have a "no strings attached" sexual relationship but end up falling in love. Romantic comedies aren't my favourite genre, especially the ones where the women are nuts, and Natalie Portman's character is definitely a bit nuts in this one. We watched this one because Ivan Reitman made it though, and as far as the genre goes, though, it wasn't too bad, it had a bit of heart.
[Feb 12] "Unbreakable" (2000)
M. Night Shyamalan's next movie after The Sixth Sense, also starring Bruce Willis. This is basically a superhero origin story, but more realistic than comics and kind of noir. Bruce Willis is really great at characters like this, and he even gets to have a bond with a kid again (his son). Samuel L. Jackson plays against type as a comics-obsessed man with medical issues who is convinced that superpowers exist and helps Willis' character come to terms with his. I've seen Watchmen and Kick-Ass, which are also more "realistic" superhero stories, but I'd never heard of Unbreakable and I think it's better than both of those.
[Feb 13] "The Bone Collector" (1999)
A thriller/mystery starring Denzel Washington as a recently paralyzed forensic investigator and Angelina Jolie as the patrol cop that's drafted into being his helper to solve the mystery of a serial killer that's leaving clues to his next murder as he kills people. I found this movie really weird:

It wasn't the worst movie ever, but I'm unlikely to want to watch it again.

[Feb 14] "Quiz Show" (1994)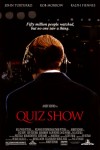 A Robert Redford directed movie about the scandal surrounding "Twenty One", a quiz show in the late 1950s which was revealed to be rigged to keep the more "marketable" contestant on the show. This was a pretty good movie, the story was told in a very matter of fact way without too much melodrama, but all of the characters are very sympathetic. I don't think it would've worked quite so well without Ralph Fiennes playing Charles Van Doren, the incredibly likeable contestant who keeps winning – it doesn't matter what he's doing, we like him a lot too and don't want to see him hurt. Definitely recommended.
[Feb 14] "Never Let Me Go" (2010)
I was pretty excited to see this because I really enjoyed the book but I was very disappointed. The book is just about three friends, the world is interesting and possibly a dystopia, but that's really not the focus. The movie seems like it's priorities are to be (1) a romance, (2) a sci-fi dystopia. Ruth's character is pretty much non-existent…

I tried to look at this as just a movie instead of being related to the book, but I think that just makes it forgettable. It's too bad too, because Carey Mulligan plays a really good Kathy, pretty much exactly as I'd imagined her (apparently she's a fan of the book and really wanted to be in the movie).

[Feb 15] "The Upside of Anger" (2005)
Another movie on our Kevin Costner binge. This stars Joan Allen as a suburban housewife whose husband unexpectedly disappears. She deals with it by a lot of self-loathing, sleeping with her loser ex-baseball player neighbour, and being utterly horrible to her four daughters. Despite her behaviour being really unpleasant to watch, I enjoyed the movie, she does grow somewhat, and her daughters and Kevin Costner make up for her horribleness. The ending…
[Feb 16] "Much Ado About Nothing" (1993)
This was us continuing our Denzel Washington kick, he plays Don Pedro in this version of Much Ado About Nothing. I hadn't ever read the play, so I didn't know much about it. I really enjoyed the movie, though, who doesn't love the bantering couple who can't help but fall in love? I found Hero and Claudio's story iffier (Claudio seems like a jerk, shaming Hero in public like that based on very circumstantial evidence), but I guess that's just the times. I enjoyed the adaptation, too – the actors were great, and even Keanu (who I don't think of as a great actor) is fine as the villainous prince. Emma Thompson and Kenneth Branagh deliver their pithy lines very well.
[Feb 17] "Maid in Manhattan" (2002)

We primarily watched this because of Ralph Fiennes (or I did anyway) – it's a silly mistaken identity romantic comedy where Ralph Fiennes is a senatorial candidate who falls in love with a hotel maid at a fancy hotel that he believes to be a hotel guest. It was all right, I don't think it was quite as bad as the reviews indicate, but it wasn't great either.
[Feb 18] "Mr. Brooks" (2007)
Kevin Costner plays very much against type in the movie – he's Earl Brooks, a successful businessman hiding a secret – he's the famous Thumbprint Killer, and his murderous alter ego / imaginary friend is pushing him to kill again after two years. He becomes careless and is seen by a wannabe serial killer who blackmails him into teaching him how to be a serial killer. In parallel, Demi Moore plays a police detective that is obsessed with catching the Thumbprint Killer but has several problems of her own – a messy divorce, another violent criminal determined to kill her, etc. The two threads come together pretty neatly towards the end.
I'm not sure what to think of this movie, it's very morally ambiguous. Kevin Costner is the protagonist and we root for him because he seems smart and in-control, but he's not a great person either. It's definitely fun to watch him out-think everyone, though. So I guess I did enjoy it.
[Feb 18] "A Bug's Life" (1998)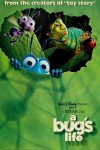 We've decided to go through all the Pixar movies because I haven't seen all of them, this is the first one we watched. It was fun but pretty formulaic, I don't think it was as good as Pixar's later movies though. Kevin Spacey does a great job as the antagonist Hopper.
[Feb 19] "The Best Exotic Marigold Hotel" (2011)
Several British retirees move to The Best Exotic Marigold Hotel in India, which promises a luxurious experience and a cheap cost of living. When they get there, the reality is actually that it's a pretty rundown facility run by an idealistic young man with dreams (and not much else). However, they soon find that the place has other charms – they find friendship, occupation, and peace of mind (and in one case, conviction about the situation not being right). The cast is great – Maggie Smith plays a curmudgeon that you can't help but like, Judi Dench plays a determined but scared woman who hasn't ever been independent, Bill Nighy and Penelope Wilton play a constantly bickering couple with very different interests, Tom Wilkinson plays a man who once lived in India and has some unfinished business, plus a few more. Much more poignant than I thought it would be.
[Feb 19] "The Taking of Pelham 123" (2009)
Another Denzel Washington/Tony Scott movie – I've liked pretty much all of their frequent collaborations. Terrorists hijack a subway train, and the lead terrorist (John Travolta) takes a particular fancy to the train dispatcher played by Denzel Washington and will deal only with him. It's pretty typical of the genre, but Tony Scott's direction and the actors make it better than average, I think.
[Feb 20] "Midnight in the Garden of Good and Evil" (1997)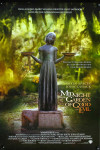 A big-city reporter (John Cusack) arrives in Savannah, GA to cover one of antique dealer Jim Williams' famous Christmas parties. He's already fascinated by Savannah's culture and the town's eccentric cast of characters, but things get even more interesting when there's a murder in the middle of the party, so he stays on to cover the trial. This isn't a murder mystery, though – it's a drama based on a real life story, and the real focus is on the unique residents – the drag queen Lady Chablis, an old man who threatens to poison the town's water supply every day and has flies attached to his clothes, a man who walks an imaginary dog every day, a famous bulldog, and a voodoo practitioner that's seems to be as essential to winning the murder trial as a good lawyer. And there's Kevin Spacey's Jim Williams, who has to keep his sexuality under wraps because even in this town where being incredibly weird is accepted, being gay isn't. I'm not sure how to describe this movie exactly, but it's very good.
[Feb 20] "Air Force One" (1997)
Harrison Ford plays the president whose plane is hijacked by terrorists (led by Gary Oldman) seeking a political prisoner's freedom. This is a very formulaic action movie, but Harrison Ford is great to watch as the president and Gary Oldman is always deliciously evil, so I enjoyed it. I'll just leave it at "Get off my plane!"