Movies Watched: Jan 27 – Feb 1, 2016
My husband and I started watching a movie (sometimes more than one) every day in October. I've reviewed some of them briefly on my reading log at LibraryThing, but I figured I should post them here as well. I'm going to be making a few posts today since I've reviewed nearly a month's worth of movies, but the posts after today should be better spaced out (although I still have a lot of catching up to do).
---
[Jan 27] "The Birdcage" (1996)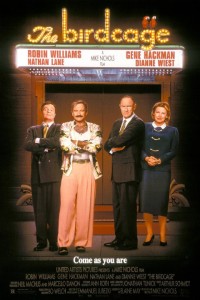 Robin Williams and Nathan Lane play a gay couple that own a cabaret. Their son announces that he's getting married to the daughter of a very conservative senator, and he wants his parents to pretend to be a normal family when his fiancee and her family come over for dinner. Of course, hijinks ensue.
I really enjoyed this movie, it had a lot of heart, and I liked the family dynamic. It's pretty silly sometimes – it's a comedy, but it's fun. I'd definitely recommend it.
[Jan 27] "The Company Men" (2010)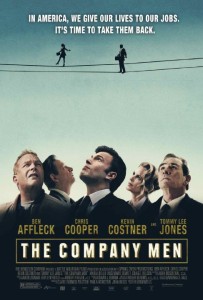 This movie was set during the recent economic downturn, and follows three long-time "company men" as they lose their jobs. It was a pretty standard drama, but I like all the actors in it, and I enjoyed it. It was a little bit flat, though – I can't see it being memorable in a few months.
[Jan 28] "The Sixth Sense" (1999)
Neither Joseph nor I had seen this movie, but both of us knew the twists because they're so famous. I quickly gave up on trying to pretend that I didn't know what they were, but it was a very good movie regardless. It's amazing how anxious it made me without actually ever showing anything scary. And I liked Bruce Willis's relationship with the kid – I think Bruce Willis is particularly good when he's acting with kids, I liked him a lot in the movie "North" (which was critically panned but I enjoyed).
[Jan 28] "Career Opportunities" (1991)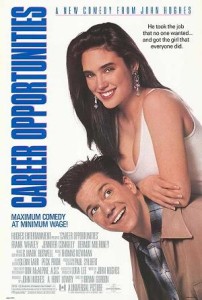 A really silly movie starring Frank Whaley and Jennifer Connelly. It was written by John Hughes and has elements of The Breakfast Club (kids from very different social circles stuck together) and Ferris Bueller's Day Off (the ridiculous hijinks, a young person comes to terms with their independence from their father). It isn't as good as either of those, but it was fun and short and kind of cute.
[Jan 29] "The Age of Adaline" (2015)
Blake Lively stars as Adaline, a woman who does not age after a freak accident in the 1930's. She lives a lonely and isolated life because she's always on the run so that people don't discover her secret, but then she meets a guy that she starts to fall for.
I had a bunch of problems with this movie. I didn't think that the romance between Adaline and Ellis was plausible, there didn't seem to be any chemistry, and I couldn't figure out why she liked him in the first place. (I might be influenced by the fact that at one point Ellis threatens to have a book burning unless Adaline goes out with him – I really didn't like or trust him, I found some of his other behavior a bit stalker-y too). Also, the movie does almost nothing with its really cool premise except have some overly melodramatic scenes where Adaline is reminiscing about the past, and show that she knows a few more things than other people. Also Harrison Ford is in this movie (yay!) but I found the whole story with him implausible and weird too. It's hard to like a movie when you don't buy the character arc.
[Jan 30]  "The Reluctant Fundamentalist" (2012)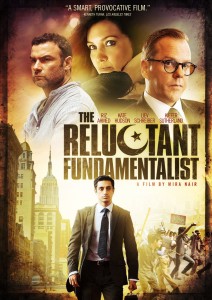 The Reluctant Fundamentalist is the story a Pakistani finance analyst turned professor who's suspected to be involved with a terrorist group I'm a big fan of Mira Nair, so I was excited to watch this movie. It was well written, well made, and well acted, but it's nowhere near my favourite of her movies. I found it a bit heavy handed with the whole "people aren't what you expect them to be" thing, and I think she's better when she's telling the story of individual people rather than trying to make a point about society.
[Jan 30] "Salt" (2010)
This was "Liev Schreiber involved in foreign politics" night, apparently. This was a re-watch for me, but Joseph had never seen it. Angelina Jolie is a Bond/Jack Ryan-esque character that's framed as being a Russian spy – or she might actually be one. The plot and writing aren't that great, but I really like this movie because of Angelina Jolie's character, who is matter-of-factly incredible without really ever being sexualized (unlike most female spies in movies). This is probably because the role was originally written for Tom Cruise.
[Jan 31] "Shallow Hal" (2001)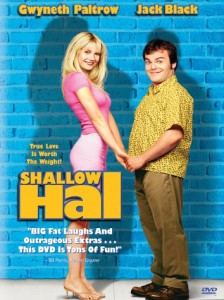 A silly romantic comedy starring Jack Black and Gwyneth Paltrow. Hal is a very shallow person who only judges women by their appearance, but then he's hypnotized by Tony Robbins into seeing people's "inner beauty". He falls in love with Rosemary, who's 300 lb and not very conventionally attractive, but he actually sees her as Gwyneth Paltrow. It had a surprising amount of heart, and I enjoyed it.
[Feb 1] "Boyz n the Hood" (1991)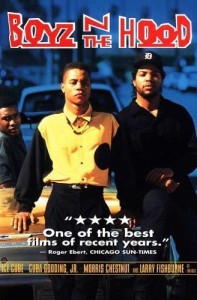 This movie follows the coming of age of three young black men from a L.A. "hood". It was very good, although somewhat depressing at the end. I especially liked the wide range of three-dimensional characters, and the look at a culture which I'm not that familiar with.