"Dear Samsor" by Ahmad Zia Wahdat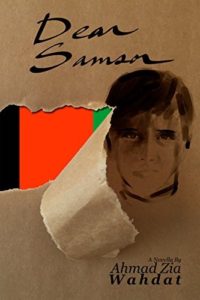 Dear Samsor is a novella written by a friend of mine from college. I was very interested in reading it since it's set in a time and place I don't know very much about – Afghanistan in the 1980s – and since he's Afghan, it seemed like it would be very authentic.
We follow Samsor, a young boy from the small Afghan village of Gogar, whose father is accidentally killed in a period of civil unrest. Being fatherless and poor means that he is forced to grow up too quickly, and he has a hard life with many difficult choices.
The writing style of this book is fairly simple, almost like someone is right there with you telling a story. It does a good job of setting – you really get a sense of war-torn Afghanistan where life is uncertain all the time, no matter where you are. There are a few glimpses of the past before things got so bad, and that makes it even more heartbreaking. Samsor's life is not easy, and even when he's trying to do the right thing, it often doesn't end well. His life is not unrelentingly bleak, though – he's young, and he sees the bright side of things and has fun where he can. And the book is a coming of age story, and ends on a note of hope.
This book has a few flaws that first books often have, and it could use a little editing – there's a little more telling than showing I would like, and some awkward phrasing at times. I still enjoyed the read, though, and I hope the author keeps writing!