Weekly Movie Reviews: Jan 22-28, 2017
This week has been very much about binging – I've been reading only Michael J. Sullivan's Riyria books, and I've been watching mostly Vin Diesel movies (The Fast and the Furious series, but also Riddick.)
Favorite Movie of the Week
Kundun (1997)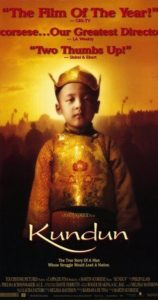 This is Martin Scorcese's biopic of the 14th (and current) Dalai Lama, telling his story from when he was his discovered as a child to when he was forced to leave Tibet for his own safety a few years after he assumed his full powers.
The acting is very good – none of the actors are professional, and the adult Dalai Lama is actually played by a relative of the real life Dalai Lama. The sets and atmosphere are full of painstaking detail, and it makes for a thoroughly immersive experience. The writing is subtle, but has a powerful impact. The scenes with the Dalai Lama meeting Mao stood out to me (just because it made me angry), but the entire movie is vivid and compelling. And of course it's Martin Scorsese – he can't make a bad movie as far as I can tell.
The focus is very much on the political struggle between Tibet and China, but it's told entirely from the Dalai Lama's point of view. Since he doesn't often leave his palace, this means most of the dramatic scenes are people bringing news to him about what's happening in the world, which I found a little boring at times. However, it makes a great companion movie to Seven Years in Tibet, which covers the Dalai Lama during the same period of time, but focuses on entirely different details.
Other Movies Watched
Riddick (2013)
I'm a fan of Vin Diesel's space opera Riddick series, and so I was pretty excited to see the newest one, also titled Riddick. This one is more like the first one of the series (Pitch Black), since it's about survival on a planet where the native animals are not friendly (to put it lightly.) I enjoyed it, although I wished it had more space opera elements like The Chronicles of Riddick. I enjoy Riddick's unapologetic competence, even though I usually find flawless characters somewhat annoying. I'm glad they're filming a new movie in this series this year.
Fast & Furious (2009)
The fourth movie in The Fast and the Furious franchise – Letty has been murdered, and FBI agent Brian (Paul Walker) and his old quarry Dom (Vin Diesel) are both after the drug dealer who she was working for. We've been excited about this movie since it unites Brian and Dom again after the first movie, and it was actually pretty great. Yes, it has a lot of action, but the characters and their relationships are fairly heartfelt. In fact, it was so good that it caused us to binge on the rest of the movies as you'll see below.
Fast Five (2011)
This movie reunites all the best characters of the first four movies into a single crew. Brian, who makes a pretty shitty cop, has finally embraced his criminal side by breaking Dom out of prison, and ends up on the run from the authorities (represented by Dwayne "The Rock" Johnson) in Brazil. When they end up on the wrong side of a nefarious businessman, they call in all their old friends (including Roman and Tej from 2 Fast 2 Furious, Han from The Fast and the Furious: Tokyo Drift, and Gisele from Fast & Furious) for a $100 million dollar retirement heist. This was the first movie to focus on a heist, and it was pretty fun, as most heist movies are. The main draw for me is the characters, and they continue to be great.
Fast & Furious 6 (2013)
This is where the series starts getting bad again, in my opinion. Agent Hobbs (Dwayne "The Rock" Johnson) recruits Dom and his crew from their retirement to stop a crew of experienced drivers from stealing the parts for some secret defense project (the details don't matter, it's a MacGuffin.) In exchange, their crimes will be pardoned and they can live in the US again. The plot was okay, but they're up against criminals of a higher caliber than they have dealt with in the past, and so it makes their exploits look increasingly ridiculous. The characters have gone from being ordinary but skilled people to near superheroes, since the stakes keep getting higher. Also, I wasn't happy with how a character death was handled, there was barely any focus on it.
Furious 7 (2015)
This movie is just terrible, except for the very end where there's a moving tribute to Paul Walker's character Brian O'Conner (since Paul Walker died during the filming of the movie.) Jason Statham plays the antagonist Deckard Shaw, a disavowed British special forces assassin with a vendetta against the crew. And since he's so overpowered, our crew gets their own spy backer (Kurt Russell playing Mr. Nobody, I mean I love Kurt Russell, but still) who provides them with crazy gadgets so that they can rescue a hacker and her futuristic surveillance technology. This is supposed help them find Deckard Shaw – except that he seems to possess a magical ability to know exactly where and when their missions are going to be, and he's always right there anyway. I don't know why they decided to make a movie in this franchise about hackers, it removed everything unique about the series and turned it into a not-as-good Mission Impossible clone.
Kuffs (1992)
This action-comedy stars Christian Slater as George Kuffs, a lazy drifter who inherits his brother's police station (a quirk of San Francisco's policing system) after he is murdered. He decides to actually try and clean up the neighborhood in memory of his brother, and hilarity ensues. I didn't enjoy this movie very much, although Joseph liked it more. I thought it couldn't decide on a tone – it went from slapstick to serious to slapstick again, and I couldn't invest in the characters. Some parts of it were pretty funny, though, and Bruce Boxleitner as Kuffs' brother was great (I'd probably do a lot to avenge him too.)