Weekly Movie Reviews: Feb 12-18, 2017
Favorite Movie of the Week
Hacksaw Ridge (2016)
Hacksaw Ridge is based on the real-life story of Desmond Doss, an American combat medic who served in World War II and was the first conscientious objector awarded the Medal of Honor for service above and beyond the call of duty. He single-handedly saved around 75 soldiers in the aftermath of a battle when almost everyone else had retreated.
Andrew Garfield plays Desmond Doss, and he's fantastic. He comes off as naive and almost cute, but he's also stubborn enough about his convictions to put up with constant harassment during boot camp and stand his ground. Everyone else in the movie does a great job too – it was hard for me to buy Hugo Weaving (Elrond in The Lord of the Rings movies) as a potbellied drunk, but he was good enough that I suspended my disbelief quickly. I'm a fan of Mel Gibson's direction from the movie Apocalpyto, and from what I see here, I need to keep watching his movies. The confusion and terror of war is portrayed very well, it ranks up there with Band of Brothers and Saving Private Ryan.
I thought Doss' story was amazing; I didn't know the army allowed conscientious objectors to serve in combat, and that there were actually some decorated for bravery! After the movie, I read about Doss, and it turns out that he's even more heroic in real life  – not all his exploits and injuries were depicted in the movie.
Other Movies Watched
Hell or High Water (2016)

This movie follows two brothers, Toby (Chris Pine) and Tanner (Ben Foster), who rob a series of Texas banks in order to save their family ranch. Jeff Bridges plays the Texas Ranger that is on their case, and he's outstanding in the role. I thought the style of this movie was interesting, Wikipedia calls it a "neo-western", which I didn't realize was a genre. It does seem a lot like a Western, but it's set in modern Texas. Hell or High Water isn't exactly a happy movie, but it's thoughtful, the characters are well-developed, and it strikes balanced notes of hope and realism at the end. Highly recommended.
Queen of Katwe (2016)
I'm a big fan of Mira Nair, and I was pretty excited to see her latest movie (based on a true story) about Phiona Mutesi, a girl from the slums of Katwe in Uganda who becomes a chess profigy. I love underdog stories, and chess is a particularly great example of it since you just need your mind to play well. Nair throws you into the sights and sounds of Katwe without much explanation, and it works really well. The actors seem like they're mostly unknown, although we do have Lupita Nyong'o as Phiona's mom and David Oyelowo as Phiona's chess coach. This is simply a good movie – all the details are right, we get a vivid sense of where Phiona comes from and her story is truly inspiring.
Doctor Strange (2016)
I think this was the first Marvel Cinematic Universe movie in a few years that we didn't see in theaters – we're getting superhero fatigue. Doctor Strange is actually pretty good, though. Benedict Cumberbatch plays the arrogant genius (of course) neurosurgeon Stephen Strange who loses function in his hands after an accident. Seeking the use of his hands again, he ends up being the student of the Ancient One (Tilda Swinton), who teaches him to be a powerful sorcerer. As he learns the use of his new powers, he has to stop being selfish and save the Earth from the Ancient One's misguided former student (Mads Mikkelsen, who's great, but absolutely wasted as a generic villain.) Cumberbatch is great is this role, he tempers Strange's hubris with genuine sadness. For once, the end of the movie didn't involve wanton property damage either.
Wyatt Earp (1994)

Wyatt Earp came out the year after Tombstone, which both Joseph and I really enjoyed, and I was skeptical of this movie since I thought it would cover the same story. Fortunately, it's a pretty different movie – it's more of a traditional biopic of Wyatt Earp and the events in Tombstone are just a part of the narrative. Kevin Costner's Earp is a pretty flawed and relatable character, but you can see where the myths surrounding him came from. Dennis Quaid is almost unrecognizable (and very good) as Earp's equally legendary friend, Doc Holliday. The movie seemed a little unfocused at times, but it was still pretty good.
 Allied (2016)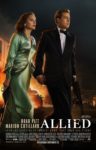 This movie stars Brad Pitt and Marion Cotillard as two Allied spies that fall in love on a mission and try to build a life together. I almost loved this movie, it's gorgeous, and the acting is wonderful. Unfortunately the plot doesn't quite live up to the rest of the movie, the characters don't seem consistent with their later actions (I can't go into details because it would spoil the movie), and some parts of the movie were quite melodramatic. I also noticed a couple of major plotholes that pulled me out of the story a bit. The first act of the movie with the mission in Casablanca was really immersive, though.
Dragonfly (2002)
Dragonfly is a weird movie starring Kevin Costner as a doctor who believes his recently deceased wife is talking to him via patients with near-death experiences. I wasn't really looking forward to watching this movie, but we're slowly making our way through Kevin Costner's entire catalogue, and we had to get to this at some point. I'm not a big fan of horror, and this movie definitely has horror tones, although it tries to imply that the things that are happening are also magical and desirable at the same time. Only M. Night Shyamalan can pull off the creepy/hopeful aesthetic with any degree of success, this movie just seemed like a bad knockoff. Watch The Sixth Sense or Signs instead.