Weekly Movie Reviews: Apr 16-22, 2017
Favorite Movie of the Week
The Green Mile (1999)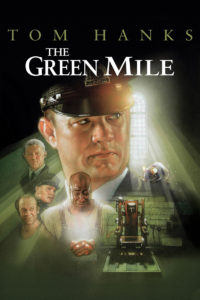 I've been wanting to watch The Green Mile for a really long time – The Shawshank Redemption is one of my favorite movies of all time, and this is also a historical movie set in prison, directed by Frank Darabont, based on a Stephen King story. Plus, it stars Tom Hanks! How could it not be good?
Paul Edgecombe is an officer in charge of death row at a Louisiana prison during the 1930s. His block gets a new inmate, John Coffey, who is the gentlest inmate Paul has encountered, despite the horrific crimes he has been convicted of. It eventually becomes apparent that John has mysterious supernatural powers (good ones, not scary ones) as he starts to affect the lives of many of the people he meets.
The Green Mile is a long movie – over three hours – and it tells its story slowly. This is a good thing, there's a great sense of atmosphere, and we get to know all of the characters very well. This movie would not have worked without Michael Clarke Duncan's performance as John Coffey, he utterly sells the innocence and suffering without ever coming across as hokey. I also liked that most of the prison guards were portrayed as nice people who genuinely wanted to make the lives of their prisoners better, even when the world hated them.
Other Movies Watched
Escape from New York (1981)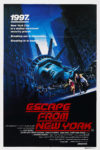 In the future, crime has risen astronomically, and Manhattan has been turned into a maximum security prison. When the President's plane crashes into the prison, war hero and convicted bank robber Snake Plissken (one of Kurt Russell's most iconic roles) is sent in to retrieve him in exchange for amnesty. I saw Escape from New York a few years ago, but I didn't remember much of it except that it was a great sci-fi action classic, and Snake Plissken was awesome. Well, that's still true, but this time around I'm much more familiar with the tropes of sci-fi action genre, so I noticed more details, like how great the worldbuilding was, even with very little dialogue, and how much this movie influenced later sci-fi action movies.
Steel Magnolias (1989)
Steel Magnolias follows the lives of a group of women in a small Louisiana town over a couple of years – Truvy (Dolly Parton), the local beauty salon owner, Annelle (Daryl Hannah), her new employee with a troubled past, and four of her customers – older widow Clairee (Olympia Dukakis), mother/daughter M'Lynn (Sally Field) and Shelby (Julia Roberts), and their neighbor Ouiser (Shirley MacLaine). M'Lynn and Shelby are the real heart of the movie, although every woman has a character arc. I don't think I've seen many movies which revolved entirely around the life of women in such a realistic way, I wish there were more. It's heartwarming, tragic, frustrating, and really good.
Secret In Their Eyes (2015)
I am a fan of writer/director Billy Ray (Breach, Shattered Glass), so I was excited about Secret In Their Eyes. I watched the trailer a while ago, and I was expecting some sort of mediocre murder mystery thriller, but fortunately the movie turned out to be much more interesting than that. It's based on the 2009 Argentine film of the same name (which won the best foreign film Oscar) and stars Chiwetel Ejiofor as Ray Kasten, a former FBI officer haunted by an old case involving the rape and murder of his colleague Jess's daughter. The case was never solved, but when the alleged perpetrator resurfaces after 13 years, he gets all of the old investigating officers involved in a new effort to capture him. This movie has a great cast, and Nicole Kidman and Julia Roberts (whose part was originally written for a man) in particular are excellent. The movie has great tension without resorting to melodrama, and the resolution that it builds up to is very satisfying.
The Cider House Rules (1999)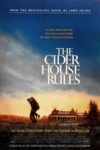 Homer Wells (Tobey Maguire) has spent all his life in an orphanage. His mentor and the orphanage's doctor, Dr. Larch (Michael Caine), expects him to continue working at the orphanage, but he wants to see the world. He ends up leaving with a couple that visits the orphanage and gets a job as an apple picker. The Cider House Rules is very much a coming of age story, and it's an unusually good one. Homer learns about the world, and that includes some immensely screwed up things happening, but the movie presents both the bad and the good things in a matter-of-fact way. I think the most notable thing about this movie for me was that it portrayed kind people, terrible people, and people that were neither. Most movies don't display such a diversity of characterization, and I enjoyed it.
My Big Fat Greek Wedding (2002)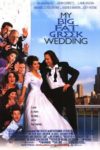 Fotoula "Toula" Portokalos is a first generation Greek-American who is the despair of her family because she hasn't gotten married yet even though she's 30. She works at her father's restaurant but dreams of a more fulfilling life. She gets more than she bargained for when she falls in love with Ian, a WASP, and they decide to get married. Despite the title of the movie, the wedding doesn't take up more than a third of the movie, most of it is a coming of age story where Toula finally begins to feel comfortable with both herself and her roots. It was great to see a movie about the more ethnic communities of America – many of the situations and scenes were uncannily familiar to me as a recent immigrant who married a more traditional American. It's a pretty good movie, it's funny, it has heart, and the fact that star Nia Vardalos is also the writer lends it authenticity.
Elizabethtown (2005)

Drew Baylor (Orlando Bloom) has just been fired from his company for designing a flawed shoe that resulted in huge losses. He doesn't feel like he has anything to live for anymore, but before he can follow through on his plan to commit suicide, he learns that his father has died. He travels to Elizabethtown, Kentucky to retrieve his father's body and discovers a whole new side to life, especially through the bubbly flight attendant (Kirsten Dunst) he meets on the plane. I usually like Cameron Crowe's movies, but I wasn't a huge fan of this one – it's got all the components of a good movie, but it felt empty somehow. This movie also originated the "manic pixie dream girl" trope for a good reason – it was hard for me to believe that Kirsten Dunst's character was anything approaching a real person.