Weekly Movie Reviews: Jul 2-8, 2017
Favorite Movie of the Week
Set It Off (1996)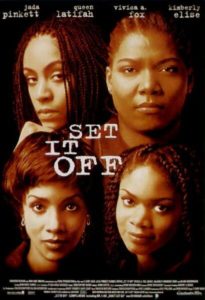 Frankie Sutton is fired from her job as a bank teller after her bank is robbed by someone who she happened to know. After her efforts to find a new job fail due to the bank's refusal to give her a recommendation, she ends up working at a janitorial service with her friends Stony, Cleo, and T.T. All four women need money for various endeavors but feel like they are stuck in a cycle of poverty that they can't get out of. Eventually they decide to use Frankie's inside knowledge and rob a bank so that they can make a better life for themselves.
Set It Off is directed by F. Gary Grey, who also did Friday and Straight Outta Compton. He's really good at making his characters believable, and that's in evidence here as well. This movie is not a heist or a caper, it's a serious story about four women who truly believe that robbing a bank is the best option they have because they feel like they have tried everything else. I've seen comparisons to Thelma and Louise in various reviews, and yes, both movies have female friends committing crimes together, but Thelma and Louise were bored, not desperate.
Pretty much everyone in this movie gives a terrific performance, especially Vivica A. Fox, Jada Pinkett Smith, Queen Latifah, and Kimberley Elise as the four central characters. John C. McGinley's cop character was portrayed almost as sympathetically as the main characters – they're not really going up against each other, they're going up against society.
Other Movies Watched
The Lost City of Z (2016)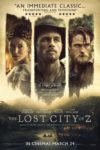 The Lost City of Z is based on the true story of British explorer Percy Fawcett and his search for an ancient lost city in South America. It takes a lot of liberties with the original events but it tells a captivating story. It's set over almost two decades, following Fawcett as his fascination with his hypothetical city increases and how he struggles to balance it with the realization that his family feels like he has abandoned them. Charlie Hunnam does an excellent job as Fawcett, his portrayal is complex and nuanced, and I didn't exactly like the character but I understood him. I wasn't familiar with Fawcett's story so the ending of the movie came out of nowhere, but I liked it after I got used to it.
Children Who Chase Lost Voices (2011)
We're going through Makoto Shinkai's filmography fairly quickly (see last week's reviews), and Children Who Chase Lost Voices is up next. After a boy named Shun saves schoolgirl Asuna from a monster and is found dead soon after, she and her teacher Mr. Morisaki make their way into the mythic land of Agartha, where it is said the dead can be brought back to life.  This movie is beautiful and it reminded me of several Ghibli movies (especially Castle in the Sky), both in its animation style and storyline. It's well told, but it was a little too melancholy to be emotionally satisfying. Shinkai's other films share the same melancholy but it works better in his more romance-focused films.
Warcraft (2016)

I was pretty excited about this movie because it's directed by Duncan Jones (director of Moon and Source Code, which are both great sci-fi movies). And unlike Assassin's Creed, the last video game movie I had high hopes for, it's pretty darn good! I've never played any of the Warcraft games but I found the story compelling. A tribe of orcs fleeing their dying planet invade the world of Azeroth, and the king of Stormwind must figure out how to respond. The movie starts out from the orcs' perspective and establishes that they're just people too, with their own individual desires, and it keeps that theme throughout – both men and orcs have good and evil within them, and the conflict is not black and white. I would gladly watch a lot more movies set in this world if they were all this good.
I Am Not A Serial Killer (2016)

John Wayne Cleaver (Max Records) is a teenager from a small Midwestern town. He's a clinically diagnosed sociopath and he has a set of rules that he rigidly follows in order to keep himself from following his violent desires. But when a serial killer starts operating in his town, he has to do something about it, even if it means breaking all his own rules. I don't usually watch a lot of movies with horror elements, but this is based on a book written by Dan Wells (who I know from speculative fiction writing podcast Writing Excuses). It ended up being a much better movie than I thought it would be; it seemed more like a drama than a horror movie, the protagonist isn't constantly in danger, and even scenes that you think will end badly mostly end up being fine. Max Records (who is apparently the boy from Where the Wild Things Are) and Christopher Lloyd are both great in their roles, giving their characters humanity at the oddest moments. I'm not convinced that John is a sociopath, though; he might think he is, but he cares too much.
The Secret of My Success (1987)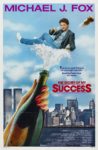 Brantley Foster, a farm boy from Kansas, is determined to do well and rise quickly at his new job in New York City. When the job falls through at the last minute, the only work he can find is in the mailroom of Pemrose, the large corporation that his uncle manages. Undeterred, he vows to be successful and soon finds that the mailroom offers a lot more opportunities than he originally anticipated. The Secret of My Success was pretty funny, it reminded me of a screwball comedy from the 30s/40s, although it also had some slapstick and physical comedy. I find young Michael J. Fox irresistible, especially when he's playing an upstart, and he makes it impossible to not like the movie.
Wild Wild West (1999)

Jim West (Will Smith), a cocksure Army officer/gunslinger is forced to team up with Artemus Gordon (Kevin Kline), a U.S. marshal/inventor/master of disguise to save President Ulysses S. Grant from an evil ex-Confederate inventor who was unhappy with how the Civil War turned out. I knew this movie was going to be terrible before we watched it so I was mostly watching it for the tropes and ridiculousness. I would never call it anything approaching a good movie, but it's still got some enjoyable qualities. Kevin Kline is a great actor, and even though he's underused here, he's still got great comic timing. The genre of the movie was interesting too, it's got some steampunk/weird Western elements to it, and I don't think those were all that popular when the movie was made.