Weekly Movie Reviews: Jul 9-15, 2017
Favorite Movie of the Week
No Way Out (1987)
Navy officer Tom Farrell (Kevin Costner) gets a new job as one of the aides of Secretary of Defense David Brice (Gene Hackman). At around the same time, he starts a relationship with Susan Atwell (Sean Young), a beautiful woman who is unhappily involved with a powerful man. His work and personal lives collide violently when Susan is killed right after he leaves her house one night, and he is put in charge of the investigation to find her killer.
No Way Out is one of the best kinds of movies, it surprises you in a good way. You watch it and for most of it you think it's a pretty average movie and that it's a competent thriller but some of the things it's doing just don't make sense. You wish that writers would be a little more detail-oriented, but you're used to movies that don't get the details right. And then by the end, you realize that the wool's been pulled over your eyes and the movie has used your expectations of it to hide its brilliance in plain sight. The story is not anything new, but the way it's told is.
Kevin Costner does a fantastic job as Farrell – he's intense but likeable, and I read somewhere that this was the movie that launched his career as a leading man. Gene Hackman is terrific as always, and Will Patton was amazing too, he really added subtlety to a character that could've easily been over the top.
Other Movies Watched
Get Shorty (1995)
Chili Palmer (John Travolta), a mobster/loan shark based in Miami flies to Hollywood to collect on a debt and decides to try to make a career out of producing films. He falls in with horror movie producer Harry Zimm (Gene Hackman), who he's also supposed to be collecting money from, and discovers that he has a natural aptitude for the movie business – it's not so different from what he knows. I'm not entirely sure how to describe this movie, I guess it's sort of an action-comedy and it's pretty great. It's got a dry sense of humor (which I love) and the characters are mostly just archetypes, but it makes the ridiculous look normal and even desirable. There's murder, mayhem, and at least six different agendas in play at any given time, but it all works fantastically well. I'm looking forward to seeing the sequel, Be Cool where Chili takes on the music business.
Boys on the Side (1995)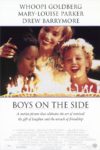 Jane (Whoopi Goldberg), a perpetually unsuccessful musician, decides to move from New York to Los Angeles in the hopes that she will get better work there. She answers an advertisement from Robin (Mary-Louise Parker) who is looking for a driver to drive to San Diego with her. Along the way, they pick up Jane's friend Holly (Drew Barrymore), and despite their initial differences, all three women become friends. The first half of this movie is a standard roadtrip movie (although self-aware, the characters even reference Thelma and Louise), and the second half turns into a more serious movie about friendship and consequences. It was a lot more heartfelt than I thought it would be and I would definitely recommend it, especially if you like movies like Steel Magnolias or even Singles or Reality Bites.
Ghost in the Shell (2017)

I like that Hollywood is making more media influenced by anime (the excellent Pacific Rim, the upcoming Death Note), I've found that anime often tells stories with characters and ideas that other media rarely explores. Although I haven't seen the original Ghost in the Shell movies and series, I've been looking forward to watching this movie. Scarlett Johansson plays an anti-terrorism officer, Major Mira Killian, who is the first person with an entirely manufactured body – only her brain is human. While tracking down a skilled hacker, she comes to realize that she may not be who she's always believed herself to be. I enjoyed this movie, although I didn't love it, its world felt a little too CG and generic. I also liked that the movie was set in Japan and it handled the issue of Scarlett Johansson playing an originally Japanese character very well.
Forever Young (1992)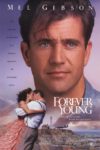 After suffering a terrible loss, military test pilot Captain Daniel McCormick volunteers to undergo cryonic freezing as part of a top secret experiment. He is meant to be frozen for a year, but World War II breaks out and the experiment is mislaid as a result of the chaos, so he ends up accidentally being revived in the 90s instead. This is a pretty standard sci-fi movie of the era, complete with a cute kid and his family, a chase scene involving running from the government for no apparent reason, and a very convenient ending (also it was written by J.J. Abrams back when he was still credited as "Jeffrey Abrams"). The actors are great, though, and they make the movie seem better than it is – especially Mel Gibson as Daniel and Elijah Wood as the kid, Nat.
Barely Lethal (2015)
Hailee Steinfield plays Agent 83, a teenage spy and assassin who has been trained from birth as part of a secret government program. When she finally graduates and is sent on field missions, she uses her newfound freedom to watch teen movies and fantasize about high school, eventually faking her death to attend high school for real. Of course, high school is scarier than she thought it would be. This movie is all over the place, and if you think about the plot even a little, you'll realize it makes no sense. But, Hailee Steinfield is a great actress, and her charisma makes this a pretty fun movie. And I did like the teenage boys' absolute lack of personality other than being objects of desire, it was a nice subversion of the usual tropes (although I'm not sure if the movie did that intentionally or if it was just bad characterization).
Les Visiteurs (1993)
Les Visiteurs is a French movie starring Jean Reno and Christian Clavier as a 12th century knight and his servant who end up modern-day France after a spell goes wrong. I was excited to watch this movie, I've loved Jean Reno in everything I've seen him in, and I assumed this movie would be good because it had an American remake and a couple of sequels. I ended up being disappointed, though. It's not like the movie is bad – I think it knows what it wants to do and does it well, but I don't have the same sense of humor that it does. I think it's somewhat realistic in that modern-day humans would in fact find people from the 12th century somewhat disgusting, but it's a dedicated comedy and doesn't actually examine any of that.