Weekly Movie Reviews: Aug 27-Sep 2, 2017
Favorite Movie of the Week
Wolf Children (2012)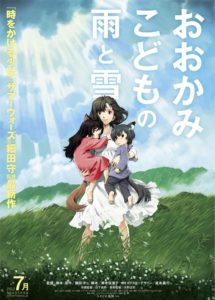 Wolf Children is Mamoru Hosoda's third original movie, after The Girl Who Leapt Through Time and Summer Wars. It follows Hana, a woman who falls in love with a wolf shapeshifter. They marry and have two young children (who are also wolf shapeshifters) but tragedy strikes when Hana's husband dies suddenly. She must now raise her two children alone without any support while also providing for both their human and wolf needs.
The premise of this movie sounded a little weird to me when I first read about it but I didn't have to consciously suspend disbelief at all, the movie pulled me right in. Hosoda has said that his movies all revolve around certain themes – The Girl Who Leapt Through Time is about youth, Summer Wars is about family, and Wolf Children is about motherhood. I think it's one of the best depictions of the challenges and rewards of being a good mother that I've seen (disclaimer: I'm not a parent). The two children, Ame and Yuki, are nothing like each other and their reactions to events are often as dissimilar as you can get. They are each demanding in their own way, and Hana manages to be an amazing mother to both and never gives up even when the going is tough.
This movie made me pretty emotional, especially at the end. It even makes me emotional to just think about some of the events while writing this review. Not many movies do that. It's quiet and thoughtful but the pacing doesn't bore you and the characters and setting will stay with you for a while after you watch it. I highly recommend it!
Other Movies Watched
The Weather Man (2005)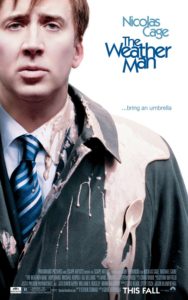 David Spritz is a down-on-his-luck news station weatherman working for a Chicago TV station. It seems like everything that can go wrong in his life is going wrong; he's a recent divorcee, his two kids have serious issues, his relationship with his father is stiff, and on top of everything the people who recognize him on the street often throw food at him for some reason. He hopes to make a new life in New York if he gets the job he applied for, but nothing is going right for him.
People often make fun of Nicolas Cage but he is a great dramatic actor (see Adaptation. and Lord of War for examples). He makes this movie succeed as well as it does, his character is constantly doing things that make his situation worse and you might be yelling at the screen in frustration but you still feel a lot of empathy for him. It reminded me a little of American Beauty in that the main character is a somewhat pathetic middle-aged man but finds purpose by the end (although the way it unfolds is quite different). I also liked the ending of this movie because it chose not to be overly sentimental or stereotypical and actually went with the choices that made sense for David's personality.
Wonder Woman (2017)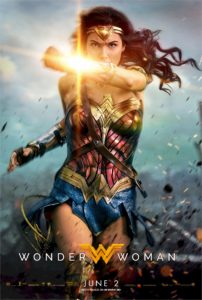 Wonder Woman is the fourth film in the DC extended universe and tells the origin story of superhero Wonder Woman a.k.a. Diana Prince (whom we've already seen in Batman vs. Superman). It's set during World War I; an American pilot on the run finds Diana's hidden island home of Themyscira. He talks to her about the war raging across the world and that horrifies her and makes her determined to help stop it.
People are talking about this movie everywhere and I'm not surprised because it's fantastic. Gal Gadot is superb as Wonder Woman; I had my doubts about her originally because the only thing I'd seen her in was the Fast and the Furious franchise, but her appearance in Batman vs. Superman dissolved most of them. Diana is naive and wears her heart on her sleeve but she's also incredibly powerful and confident at the same time; Gadot portrays this nuance beautifully. The supporting cast was outstanding, I particularly liked seeing Robin Wright as Diana's aunt and martial instructor, and Chris Pine playing the pilot, Steve Trevor. His character is the emotional heart of the movie and he's the perfect mix of idealistic, lovable, and exasperated.
The movie does have some flaws, I thought that the romance between Diana and Steve was a little contrived and I would have liked for it to develop a little more slowly. I would have also liked Diana to have more agency, it seems like she's mostly reacting to people and events around her rather than seeking them out herself. That might be an unfair criticism given that this is an origin story, though.
Lock, Stock and Two Smoking Barrels (1998)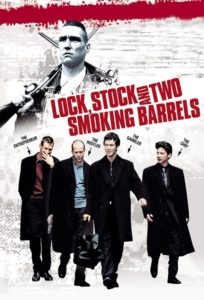 Eddy, a card-playing prodigy, and three of his friends band together to raise a hundred thousand pounds so that he can enter a high-stakes card game and make a lot more. The plan doesn't quite work, and the four of them end up owing five times their original investment to a gangster known for his brutality. Their attempts to raise the money result in a comedy of errors involving the friends, their neighbors, gangsters, weed-growers, loan sharks, thugs, and probably a few other people I'm forgetting.
This is one of those movies that follows a bunch of different characters that seem unrelated at first but the threads come together gradually to tell a single story. It's funny, clever, violent, and heavily stylized – sort of like Tarantino (it reminded me a little of Pulp Fiction) but the camerawork and direction is very different. I haven't watched a lot of director Guy Ritchie's movies, but as I understand it, this style is his trademark. It's an impressive movie, especially for a debut director. It takes significant skill to intertwine the number of stories in this movie and have them all come together as tightly as it did. The actors are all great as well, I read that a bunch of them had never professionally acted before (including Jason Statham, who was apparently found by the production team as a street vendor) and it gives the movie a sense of authenticity.
Colombiana (2011)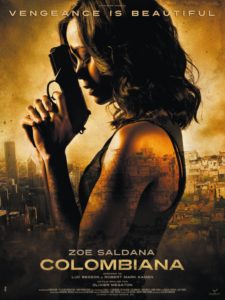 After Cataleya's parents are killed in front of her by drug lord Don Luis, she manages to escape to her uncle's house in Chicago. Her uncle and grandmother try to give her a normal life but she continues to be determined to avenge her family. She grows up to be a deadly assassin committing vigilante murders around the country in order to draw Don Luis's forces out.
This movie has been on our list for years. I'm not sure why it took us so long. It's written by Luc Besson (apparently it was originally meant as a sequel to Lëon, but Natalie Portman was unavailable) and he's good at writing kick-ass women. Zoë Saldana has played dangerous women before and she's terrific in this movie; she manages to make Cataleya seem both tough and vulnerable at the same time. The action sequences are fun and the pacing is good. The movie did have a few glaring flaws, though – I thought the climactic fights felt too much like a video game's boss fight, Cataleya handles most opponents effortlessly except for the last one or two, it took me out the movie a little bit. Also, Cataleya's boyfriend Danny was pretty one-dimensional which stood out because none of the other characters seemed that way.
Guardians of the Galaxy Vol. 2 (2017)
The Guardians of the Galaxy have been a team for a while now, capitalizing on their fame from saving the galaxy to get mercenary jobs. When their most recent job goes awry, they are saved by Ego, a mysterious being who says he is Star-Lord's long lost father and wants them to visit his planet. But the family reunion doesn't work out as planned and the Guardians need to save the galaxy yet again.
I enjoyed the first Guardians of the Galaxy movie quite a bit and this one offers more of the same. I think I'm getting a little tired of Marvel's formula though because I got tired of the constant formulaic (and bad) jokes and superficial character arcs. It did keep me entertained the whole way through but at the end I didn't feel satisfied and I don't think the movie earned its attempt at emotional payoff, especially given that it retconned the personalities of some characters from the first movie with no explanation. I was looking forward to seeing Kurt Russell as Ego but he was mostly wasted. Also, the soundtrack to this movie (a critical element in Vol. 1) didn't seem as fun either. The most interesting part of the movie was Karen Gillan's Nebula, whose intensity actually sells her transition from villain to reluctant hero, but she isn't in it that much.
Mean Girls (2004)
Mean Girls stars Lindsay Lohan as Cady Heron, a teenager who has spent most of her life being home-schooled in Africa, as she moves back to the United States and starts high school. She joins the "Plastics", the most popular (and mean) girls in the school so that she can spy on them for her real friends, but slowly starts getting sucked into being one of them herself.
I've been wanting to watch this movie for a long time since it get referenced all the time, especially by people of my generation. I didn't like it much, though. The movie plays it like Cady is an earnest character, but I thought she seemed like a fake person the entire time and couldn't invest in her story. The love interest, Aaron, doesn't seem like he has any agency, he spends the whole movie being successfully manipulated by everyone around him to serve the needs of the plot and I was hoping until the end that he wouldn't turn out to be the actual love interest. The movie just seemed shallow, even compared to other teen dramedies.
Rachel McAdams did an excellent job as the queen bee (and Cady's nemesis) Regina; she is almost unrecognizable. I saw her name in the credits and I was wondering when she would show up. My husband had to point out that she was playing Regina and had already been in the movie for a while.