Weekly Movie Reviews: Sep 24-30, 2017
Favorite Movie of the Week
Ride with the Devil (1999)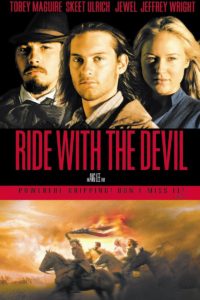 Another Ang Lee movie that I had never really heard of! And one of my favorite genres too – a period drama.
The Civil War has just begun and Missouri natives Jake Roedel (Tobey Maguire) and Jack Bull Chiles (Skeet Ulrich) join the fight out of a desire for revenge after Union soldiers kill Jack Bull's father. They join the Bushwhackers, a vigilante army that opposes the Union-loyalist Jayhawkers from across the border in Kansas. As the war progresses, however, their sense of purpose grows murkier and their priorities start to change.
Ang Lee is amazing at getting nuanced performances from his actors and this movie is no exception. The characters never seem like they're in a movie, they sometimes surprise you and other times they're predictable, just like real people. I liked that the protagonists were Confederate soldiers and their story was told without being moralistic in any way; they are just people trying to do the right thing – protect their community and avenge their losses, not fight to defend political ideals.
Other Movies Watched
20th Century Women (2016)
20th Century Women tells the story of a group of people living in a boarding house in late seventies Southern California. The house is owned by Dorothea Fields (Annette Bening), who is growing increasingly baffled by her teenage son Jamie and enlists the remaining members of the household as well as Jamie's friend Julie to provide other influences in his life.
This movie is hard to describe, but it's really good. You could describe it as a standard independent dramedy; it centers on a group of quirky characters that all grow in different ways throughout the movie, but it's done well enough that it doesn't feel standard. Annette Bening's performance as the contradictory and irrepressible Dorothea is excellent. I read that the movie is based on writer/director Mike Mills' mother so of course the characterization is well done. Parts of 20th Century Women reminded me a lot of another semi-autobiographical movie, Almost Famous, but it also focuses on the women around Jamie rather than just telling one coming of age story (hence the title) and that makes it even more compelling.
The Pursuit of Happyness (2006)
The Pursuit of Happyness is based on entrepreneur Chris Gardner's struggle with homelessness as he was raising his young son on his own and trying to start a new career as a stockbroker. It stars real-life father-son duo Will and Jaden Smith (and is thankfully much better than After Earth, the other movie that they play a father and son in).
I didn't know anything about this movie before going in and I was surprised that it was a fairly serious drama. On the surface it seems just another inspirational story of a person being successful through hard work but the details and the acting make it more than the sum of its parts. I'm a big fan of Will Smith (especially in his more dramatic roles) and he's as good as ever. He does get to use his signature comic timing even though he goes through a lot of awful things. He also has great chemistry with his son and that's the emotional heart of the movie.
Romancing the Stone (1984)
Joan Wilder is a successful New York City author who writes adventurous romance novels. She's absolutely the last person who would get mixed up in any trouble… until her sister is kidnapped in Colombia, anyway. She travels to Colombia to arrange for her sister's ransom but events soon get out of hand and she must go on the run with roguish soldier of fortune Jack Colton to get away from the corrupt Colonel Zolo.
If I had to use one word to describe Romancing the Stone, it would be "fun". It is so much fun that if dictionaries had pictures, the entry for "fun" would have a Romancing the Stone poster under it. I enjoy the trope where a creator gets tossed into a situation that relates to their work and this is a great example of it. Michael Douglas hams it up wonderfully as Jack Colton (he reminded me of his character in The Ghost and the Darkness). And who doesn't love a classic adventure story involving jungles, treasure, a vile villain, drug lords, a crocodile pit, and so on?
As if there weren't enough reasons to like this movie already, its unexpected success launched director Robert Zemeckis's career and enabled him to make his next movie (and one of my favorites of all time), Back to the Future.
Falling Down (1993)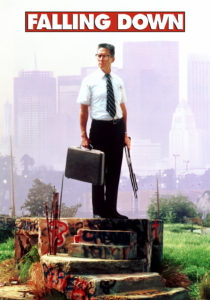 Falling Down follows William Foster (Michael Douglas) as he makes his way across Los Angeles to visit his daughter on her birthday. Recent events have left him teetering on the edge of sanity and when his day starts off with a traffic jam and a shopkeeper that refuses to give him the change he needs to make a phone call, he is pushed right off that edge. In parallel we follow retiring police sergeant Martin Prendergast (Robert Duvall) who is tracking Foster by the string of crimes committed along his path.
I thought this movie would be comedic but it plays it straight. Foster is clearly mentally ill and treated as such throughout. Michael Douglas does a fantastic job; he's said it's his favorite performance of his career and I can see why – he portrays a nuanced character that I both empathized with and was terrified of. The movie also has a great oppressive and uncomfortable atmosphere that pushes you to side with Foster even more. It's not the most cheerful movie but it has some terrific scenes (this scene at a fast food restaurant is probably the most famous) and is definitely worth watching.
Muriel's Wedding (1994)
Muriel's life isn't great – she's constantly berated by her demanding father, she has no real friends, and she's stuck in her dead end hometown of Porpoise Spit. She spends her days listening to ABBA and dreaming of having a beautiful wedding and a husband that will help her escape her life. She is nowhere near achieving that goal until one day she has an opportunity to steal some money from her family and get away from them.
I wasn't sure about whether I would like Muriel's Wedding for the first half of the movie; Muriel is a a fairly pathetic character in the beginning. But this movie has plenty of heart and it eventually completely won me over. Toni Collette is perfect as Muriel (although I barely recognized her, she put on 40 lb for the role). And the movie wasn't just a quirky comedy, it had realistic character development in some unexpected ways.
Julie & Julia (2009)
This movie is based on two sources – the book My Life in France by Julia Child and a blog by Julie Powell, a woman who decided to cook every recipe from Julia Child's Mastering the Art of French Cooking in a year. It follows both women's lives in parallel as they go from uncertainty about their direction in life to success.
I loved the parts of the movie that focused on Julia Child. Meryl Streep plays her and does as a good job as anyone could, although she is a bit stiffer than the real Julia. Stanley Tucci is also fantastic as Julia's husband Paul. I didn't really care for the Julie segments, the character seemed too self-involved and annoyed me. Amy Adams is a great actress and I probably would have disliked her character much more if she hadn't been the one to play her. The movie is well made but I just found myself wishing that it was a Julia Child biopic instead.