Interview with author Mur Lafferty + giveaway
I read and loved Mur Lafferty's Shambling Guides books (The Shambling Guide to New York City and Ghost Train to New Orleans) last month, and I'm very excited to be able to interview her! I had originally intended to publish this interview alongside a review of the books, but I haven't really had time to write over the last couple of weeks. Watch this space for a link to the review when it finally goes up, though.
Orbit has also offered me a pack of the two Shambling Guides books  to give away – see the end of this post for details.
---
Hi Mur! Thanks for doing this interview!
I'm somewhat nervous about interviewing you because I looked you up for interview research, and you run a podcast interviewing other authors, but hopefully my questions won't be too amateur.
Tell us a little bit about the Shambling Guides books published so far, and what you loved the most about writing them.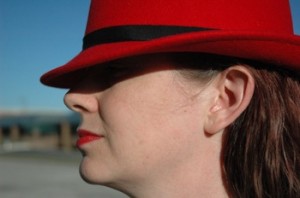 The Shambling Guides are about a human woman, Zoe, who becomes editor of travel books written for monsters. She has to acclimate to the myriad monsters she comes across, learn etiquette, and how to deal with coworkers who would rather eat her than take her editorial input. Occasionally she has to fight for her life, and that's no fun at all. And then she has to produce a book on top of it all. Her first book was New York City, and her second book takes her to New Orleans.
I loved doing research and looking at cities from a different point of view. Would zombies be interested in New Orleans' strip club? Probably not. But the succubi would. Vampires have a tough time finding lodging in the city because there are few-if-none underground areas. And New Orleans was great because it's such a wild city that most monsters can walk around with little to no camouflage and people will just assume they're going to a party somewhere.
How many Shambling Guides books are you planning to write? Are they mostly standalone adventures, or are they building up to something?
I'm contracted for just two right now, but I'd love to write more. I do have some dangling threads I'd like to follow, (a person goes missing-presumed-dead in book 1, there's a mysterious person who's never around when you need him in book 2, etc) and I do have a larger arc planned, and more cities planned. So tell your friends to get these two books so I can write more!
Could you talk a little bit about your other work for readers that aren't as familiar with it?
I'm a freelancer so I have work all over the place. I've done writing for gaming magazines, anime magazines, roleplaying games, audio scripts, animation scripts, and podcast-only novellas. I've been podcasting since 2004 and have several shows produced, the longest running being my writing podcast, I Should Be Writing.
Elsewhere, you've talked about how you think cities have a special life of their own (and it's also evident in your books!) Why don't you live in a city?
Two reasons- we settled where there was work after college, and we like our house, our city (Durham is a small city, thank you very much), and the standard of living here. (Aside- I was offered a job in San Francisco once, and turned it down. A friend from NYC thought I was insane, then I asked him how much a our four bedroom house would cost in SF. He got very quiet.)
And the second is I grew up in a small mountain town and learned to find my way around by looking at scenery and landmarks. The whole, "Go till you see the dead tree, then turn left, if you see the ski slopes you've gone too far," cliche is often true. I have a terrible sense of direction, and when I go to a city I get lost easily because I don't look at street signs, I look at landmarks, and on a glance, many city streets look exactly the same. I love cities, but am sure I would wander into a sinkhole and die somehow if I lived there.
What is your writing process like? What parts of writing do you find the easiest/hardest and most fun/tedious?
I often write chronologically, and do it in the discovery writer kind of way. Outlines are very difficult for me, because often I don't know the details of what happens next until I am in the process of writing. Aside from outlines, description is so hard. I've gotten more confident in it, but it doesn't make it any easier. I just know I can't slide by a scene with just dialogue, and that there will be some heavy lifting in my future.
You've been writing and otherwise involved in SFF for quite a long time. How do you think the field has changed since you were first introduced to it?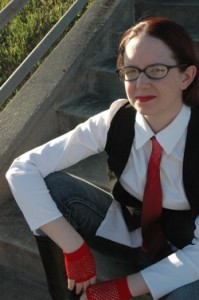 Oh gosh, I'm often myopic in my view of anything on a large scale. I think the field has changed with the internet, giving writers many more choices than they have ever had, and that is a good thing and a bad thing. The worrisome thing is watching the old guard in SF look at the Internet as if it was the devil. I had an old fan proudly tell me he didn't even have an email address, and I wondered how many "glorious technologies of the future!" books he had at home on his shelves. It also worries me when the younger writers (And I use "young" to mean career, not age) look at the long slog to publication – with querying agents and editing your book and submitting your book and having it accepted and then waiting 18 months till it hits shelves and that doesn't even count the time it takes to get an agent or editor in the first place! – and just say, "never mind, I'll self publish." The publishing cycle is long, yes, but going through a period of rejection is good for a writer's growth, and self publishing too soon denies us that growth. (And agents and editors will never be as mean to you as a disgruntled Amazon reviewer, so you're not saving your ego any bruises there, either.)
What are you currently working on?
I have two projects that are pretty much polar opposites. One is a future dystopian book with water wars and cannibals, and the other is a fun fantasy book that takes place in a world based on ancient Rome.
What books/TV shows/movies have you been consuming recently? Anything particularly cool?
Right now I'm going through a lot of YA, reading the Divergent series and The Testing series. I also just re-listened to John Scalzi's Human Division in the car with my daughter, who loved it.
I don't have cable so I wait for Netflix or Amazon or DVDs, and consume many seasons at once. I'm currently catching up on The Walking Dead and Dexter. Hannibal is next on my list. I want to rewatch Game of Thrones.
The two shows I am caught up on are Once Upon a Time and Brooklyn Nine-Nine, both excellent shows.
If you could have Zoe team up with a character from another fictional universe, who would it be, and why?
Arthur Dent of course! I didn't realize how much Hitchhiker's Guide to the Galaxy had influenced me until I was done writing, and then did a headsmack. Zoe has a similar role- being involved with a travel book, but for monsters instead of aliens. I think they would have fun together, except Zoe would run headlong into conflict while Dent would wait about and pine for tea.
Hm, on second thought perhaps Ford Prefect could be a good companion.
---
Visit Mur's website at http://murverse.com/ to see all the awesome stuff that she does. Also, buy her books – I would really like more books in this series!
Giveaway
As I mentioned above, Orbit has given me a set of The Shambling Guides to give away! To enter, please email me at kriti@justaworldaway.com with subject "The Shambling Guides" and your name and mailing address (US/Canada only). This giveaway is open until May 9, 2014.
If you can't decide whether to enter (hint: you should enter!), here are the covers and blurbs to help you out.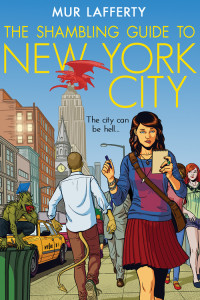 A travel writer takes a job with a shady publishing company in New York, only to find that she must write a guide to the city – for the undead!
Because of the disaster that was her last job, Zoe is searching for a fresh start as a travel book editor in the tourist-centric New York City. After stumbling across a seemingly perfect position though, Zoe is blocked at every turn because of the one thing she can't take off her resume — human.
Not to be put off by anything — especially not her blood drinking boss or death goddess coworker — Zoe delves deep into the monster world. But her job turns deadly when the careful balance between human and monsters starts to crumble — with Zoe right in the middle.
COULD YOU FIND A MUSEUM FOR A MONSTER?
OR A JAZZ BAR FOR A JABBERWOCK?
Zoe Norris writes travel guides for the undead. And she's good at it too — her new-found ability to talk to cities seems to help. After the success of The Sbambling Guide to New York City, Zoe and her team are sent to New Orleans to write the sequel.
Work isn't all that brings Zoe to the Big Easy. The only person who can save her boyfriend from zombism is rumored to live in the city's swamps, but Zoe's out of her element in the wilderness. With her supernatural colleagues waiting to see her fail, and rumors of a new threat hunting city talkers, can Zoe stay alive long enough to finish her next book?