Weekly Movie Reviews: Aug 20-26, 2017
Favorite Movies of the Week
The Hunt (2012)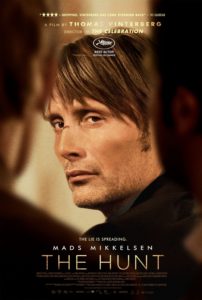 I didn't know anything about this movie before I watched it except that it was a critically acclaimed Danish movie starring Mads Mikkelsen (who is in a lot of great things, but I associate him most with his role as Le Chiffre in Casino Royale). I don't think I've ever seen a Danish movie, the only reason I even heard about this one was because of a Reddit post.
Lucas is an elementary school teacher getting his life back together after his divorce. The kids at his school love him, he is beginning to date someone new, and his son wants to come and live with him. But when one of the kids he teaches makes up a story without knowing the implications of what she is saying, he's falsely accused of molesting children and ends up being ostracized by almost everyone he knows.
This is a depressing movie but it's exceptionally good. The way all the characters interacted with each other is infuriatingly accurate, from the well-intentioned but clearly incompetent psychologist to the indecisiveness of Klara's father. Mads Mikkelsen is a spectacular actor and makes you intensely feel every emotion his character goes through. The kids in the movie are fantastic too, especially the girl who played Klara, she didn't seem like she was acting. I don't just want to single out the acting though, everything else about the movie was pretty much perfect, the directing, the atmosphere, the cinematography, the plot, the pacing… you get the idea.
The Ice Storm (1997)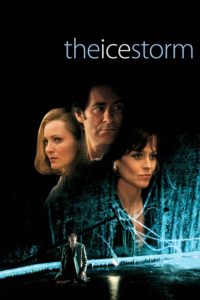 I had never heard of this movie until I was looking through Ang Lee's filmography recently. I'm a fan of Ang Lee (who isn't?) so I was pleasantly surprised to discover that he had made several movies that I hadn't seen. This one in particular stood out for the great cast – Kevin Kline, Joan Allen, Sigourney Weaver, Tobey Maguire, Katie Holmes, Elijah Wood, and a bunch more.
The movie follows the Hood family and the people around them for a couple of days around Thanksgiving. Parents Ben (Kevin Kline) and Elena (Joan Allen) have been unhappy for a long time and find that they can't keep ignoring their problems. Their kids have their own issues: Wendy is exploring her nascent sexuality at every opportunity, and Paul, her older brother, is focused on gaining the affections of a rich classmate from his prep school.
Ang Lee is amazing at getting subtle and complex performances from his actors and The Ice Storm tells a story that depends on that nuance. It reminded me of his "Father Knows Best" trilogy (Pushing Hands, The Wedding Banquet, and Eat Drink Man Woman), except with American suburban families instead of Chinese families. I'm surprised that this movie isn't more well-known, I think if it was released now it would be widely praised (it still did win critical acclaim when it came out, Gene Siskel called it his favorite film of the year, but it doesn't seem to be that well known).
Other Movies Watched
Bright Lights, Big City (1988)
New York City yuppie Jamie Conway (Michael J. Fox) works as a fact checker for a magazine. His once perfect life has been falling apart after his mother dies and his wife leaves him. He's been attempting to write a novel but can't get anywhere with it, his boss at work is constantly frustrated with him, and he's becoming increasingly dependent on cocaine to get through the day.
I was skeptical about Michael J. Fox starring in a drama since most of his movies from around the time were comedic to some extent. Bright Lights, Big City was actually a really good movie, though, and he was a big part of why it was good. His usual casual demeanor makes it seem even worse that his character is unhappy, unproductive, and addicted to drugs, treating it melodramatically wouldn't have had the same impact. The situations he finds himself in are entirely his own doing, but you can't help but root for him, and his eventual growth as a character feels like a huge relief. Also, the supporting cast is great, especially Kiefer Sutherland as Jamie's hard-partying friend.
The Boondock Saints (1999)
After surviving a brush with Russian mobsters, Irish fraternal twins Connor and Murphy MacManus decide to take down organized crime in Boston. They are being pursued by an FBI agent who can't decide whether to arrest them or hail them as heroes.
The Boondock Saints is extremely stylized and that's what differentiates it from other action/vigilante movies. I'm not sure exactly how to describe the tone of the movie, the brothers believe that their actions are blessed by God and the movie takes their righteousness seriously. It's violent, gory, and a lot of fun, sort of like a Tarantino movie. Norman Reedus and Sean Patrick Flanery make the MacManus brothers seem like nice guys even while they're gunning down a bunch of people. The other characters are pretty funny too, but Willem Dafoe takes the cake as the curmudgeonly scenery-chewing Agent Smecker. It's a ridiculous movie but I'm not surprised that it's a cult classic.
Point Break (1991)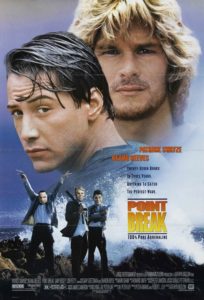 Rookie FBI agent Johnny Utah (Keanu Reeves) infiltrates the L.A. surfing scene in order to track down a gang of bank robbers. He ends up being more sucked into into the lifestyle than he originally thought, especially after meeting the charismatic surfer Bodhi (Patrick Swayze).
I thought this movie would be dumb fun just like the original Fast and the Furious movie, but once I got acclimatized to Keanu Reeves' acting enough to take him seriously, it was better than I thought it would be (he makes it hard, though). It's directed by Kathryn Bigelow, who's made some great movies (like The Hurt Locker and Strange Days). Patrick Swayze is fantastic and the emotional arc of the movie wouldn't have worked as well without his magnetic performance. Gary Busey as Utah's partner Pappas was surprisingly great and he stole most scenes he was in. And of course there are a lot of great shots of waves and surfing that add a unique atmosphere to the movie.
Rules of Engagement (2000)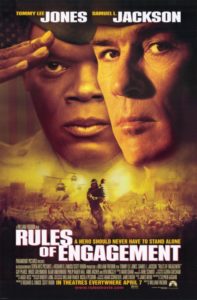 Rules of Engagement stars Tommy Lee Jones as Col. Hayes Hodges, a washed up military lawyer who is asked to defend his old friend and fellow officer Col. Terry Childers (Samuel L. Jackson) after he is accused of firing into a crowd of civilians that were protesting outside a U.S. embassy.
This movie reminded me of Courage Under Fire and A Few Good Men; military law movies seem like they were popular in the '90s (this was released in 2000 but I think of anything pre-9/11 as the '90s) although both of those were better. Rules of Engagement isn't bad, most of it is decent, but it's not very nuanced. Both lead actors do a good job, and it's nice to see Samuel L. Jackson play a protagonist and not just a supporting character. I read that originally the events that led to Childers' court martial were going to be left ambiguous but test audience's reactions resulted in some scenes being added to the movie making what happened more explicit. I would have liked to watch that version of the movie.
Death Note (2017)
This movie was terrible and I had more to say about it than my usual 1-2 paragraphs, so I wrote a separate post for it, Movie review: Death Note (2017).