Weekly Movie Reviews: Oct 29-Nov 4, 2017
Favorite Movie of the Week
Mud (2012)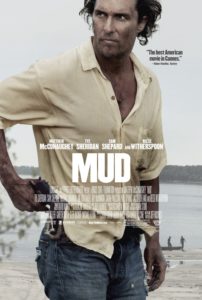 Ellis and Neckbone are two friends growing up on the banks of the Mississppi in Arkansas. One day, they sneak off to visit an island on the river where Neckbone has seen a boat stuck in a tree (a remnant of a past flood). They soon discover that they are not the only ones to have made that discovery and meet fugitive Mud who is hiding out on the island. They befriend him and resolve to try to help him reunite with his girlfriend and start a new life.
I've loved every movie written/directed by Jeff Nichols (Take Shelter, Midnight Special, Loving), so the fact that I loved this movie should come as no surprise. Matthew McConaughey is an excellent choice for the title role; his character is gritty and stubbornly optimistic; he's clearly a dangerous man but you also know he won't hurt the protagonists. The two child actors (Tye Sheridan and Jacob Lofland) are very good as well, as is Reese Witherspoon as Mud's girlfriend Juniper. The Mississppi is almost a character in itself; Ellis comes comes from a dying tradition of families living on the river and making their living through fishing, and Neckbone's older brother (and guardian) Galen (Michael Shannon, who is in all of Nichols' movies) makes his living from oyster-diving as well. The river is omnipresent, offering both adventure and sanctuary.
The movie is fundamentally a coming-of-age story for Ellis but it reminded me of two other stories –  the book Great Expectations, if the story had been more about Pip and Abel Magwitch, and the movie Cop Car, which starts off with two boys seeking adventure but goes in an entirely different direction after the first half an hour or so. It instantly became one of my favorite Nichols movies and I highly recommend it.
Other Movies Watched
Labyrinth (1986)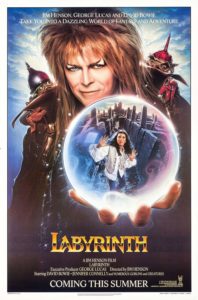 16-year-old Sarah is left to babysit her baby brother Toby when her father and stepmother go out. Frustrated with not being able to do what she wants, she wishes that the Goblin King (from the book she is reading) would come take him away. She doesn't expect her wish to actually come true, though. Now she has 13 hours to find her way through a labyrinth and rescue her brother before he gets turned into a goblin forever.
I'm not sure what to say about Labyrinth because well, it's Labyrinth and it's such a classic. I've seen it before but we recently got the 4K UHD blu-ray so we had to re-watch it. It's imaginative and original; it's directed by Jim Henson and as such, features a lot of creative puppet characters. David Bowie's portrayal of Jareth the Goblin King is probably one of the most unique and iconic movie roles ever. Jennifer Connelly is perfect as Sarah; young enough to be believably whimsical but old enough to be a sort-of-love-interest to Jareth. This movie is definitely quirky but it's fantastic and I expect to re-watch it many times in the future.
Man of Steel (2013)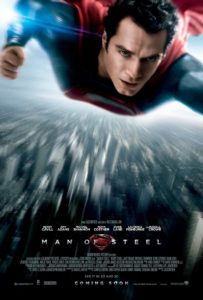 Man of Steel is Zach Snyder's reboot of Superman and the film that launched the DC Extended Universe series of films (now including Batman vs. Superman: Dawn of Justice, Suicide Squad, Wonder Woman, and Justice League). It is an origin story, showing us Superman's emergence and battle against his first major foe, fellow Kryptonian General Zod.
I watched Man of Steel a couple of months after it came out and wasn't that impressed. I'm not sure why; this time around I thought it was very good. Maybe I was still enamored with the Marvel Cinematic Universe's comedic tone (which has now been feeling stale and boring for a while)? This movie does take itself much more seriously, but that's a good thing; it respects its characters and doesn't cheapen the dramatic moments by trying to insert comedy everywhere.
The cast is great as well – Russell Crowe and Kevin Costner play Superman's two dads, and Amy Adams, Michael Shannon, Diane Lane, and Laurence Fishburne are all in it as well. And of course Henry Cavill plays Superman and does a terrific job (although I recently found out that he's a Wheel of Time and Brandon Sanderson fan so I may be biased). I think having recently seen the original 1978 Superman movie helped me understand the story better; some of the things I didn't like from the last time I watched Man of Steel seem to be part of the original Superman mythos and therefore unavoidable.
Bridge to Terabithia (2007)
Jess Aarons (Josh Hutcherson) doesn't fit in at school and is ignored at home. When he meets Leslie Burke (AnnaSophia Robb), the strange new girl at school, they quickly become best friends. Leslie and Jess turn the nearby woods into a whole new fantasy world named Terabithia, a place where they can both thrive as who they are.
I thought that this movie would be a straightforward fantasy adventure movie but it turned out to be more of a drama. Josh Hutcherson and AnnaSophia Robb are both excellent; a drama with children as protagonists is a risky proposition but these actors really make it work. The characters are nuanced and there is no good or evil. Even the school bullies have heart.
Cars 3 (2017)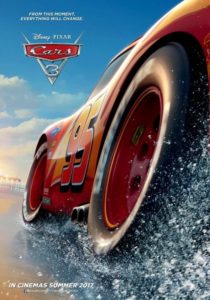 Lightning McQueen has been one of the top racers in the world for years. His dominance is threatened when newer, fancier, and faster cars start joining the sport (just as he did in Cars). He's determined to prove that he can be just as good no matter who the competition is. He starts to train at the new state-of-the-art Rust-eze racing center under personal trainer Cruz Ramirez but grows frustrated with the high-tech methods used there.
Thankfully this movie does not follow up at all on the events of Cars 2. There's absolutely no espionage and very little Mater, and focus of the story shifts back to Lightning's character growth. I found Lightning having to come to terms with his own limitations and realizing he can't race forever to be a compelling story. Cruz brings freshness to the story without seeming like Lightning 2.0. And it was great to see Doc Hudson's old stomping grounds play such a pivotal role in the story; he was one of my favorite parts of Cars.
(500) Days of Summer (2009)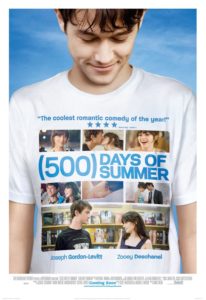 Tom (Joseph Gordon-Levitt) is a romantic and has been looking for true love all his life. When he meets Summer (Zooey Deschanel), the new administrative assistant at the greeting card company he works for, he quickly starts to believe that she's the one. Summer doesn't quite share his values and their relationship seems doomed from the start but it takes 500 days for Tom to accept that and that's what this movie is about.
(500) Days of Summer is a painfully honest look at how two people in a relationship can have completely different perspectives on both how they think and feel and what they believe the other person is thinking and feeling. Tom is in love with the idea of love and chooses to interpret Summer's behavior with that bias, which means he doesn't really know Summer (and cannot love her for who she is). And worse, he doesn't even know that that's what he's doing. The movie has an outstanding script and Joseph Gordon-Levitt and Zooey Deschanel do a fabulous job at being both frustratingly familiar and sympathetic. I also enjoyed Chloe Grace Moretz as Tom's young sister who is much wiser than him.
Body of Lies (2008)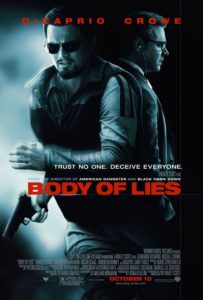 CIA operative Roger Ferris (Leonardo DiCaprio) is tasked with hunting down a notorious terrorist in Jordan. He's instructed by his boss Ed Hoffman (Russell Crowe) to work with the Jordanian Intelligence chief Hani Salaam (Mark Strong) as necessary. However, his efforts and working relationship with Hani are often hindered by Hoffman who interferes with local operations without any warning and often with disastrous outcomes.
This movie was a pretty good action-thriller with great performances by the three leads – Russell Crowe, Leonardo DiCaprio, and Mark Strong and tight and atmospheric direction by Ridley Scott. The contrast/chemistry between Crowe's amoral and "results-oriented" character and DiCaprio's old-fashioned spy character was especially well-done. I found the story a little generic, though, there are a lot of these Middle East action/espionage movies and I didn't think Body of Lies really distinguished itself from the rest.