"Transcendental" by James Gunn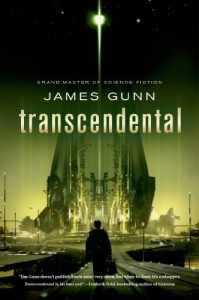 I've never read anything by SFWA Grand Master James Gunn, so I was very excited when I received a review copy of his newest novel, Transcendental from Tor.
Transcendental follows a variety of humans and aliens aboard a starship on a very unique pilgrimage – finding the machine that will help them achieve the mystical concept known as transcendence. The protagonist is Riley, a veteran of the recent Galactic War, who has been placed on the ship to find and kill the Prophet of the transcendence movement. As the journey progresses, though, it soon becomes clear that almost no one on the ship is what they seem.
I really enjoyed this book; it was a great science fiction yarn. It focuses a lot on universe-building and cool ideas, but is still fast-paced and entertaining (unlike quite a few classic sci-fi novels I could name). All of the pilgrims are fascinating characters individually, and together they give the impression of a very diverse and interesting universe. I thought the Canterbury Tales-style stories were a bit of a cheat at first, but the unreliable narration makes the stories multidimensional. The protagonist, Riley is a somewhat bland, but I think that actually strengthens the book – he's a good representative of the human race, not a special snowflake of a human.
I'm often sceptical of the combination of science fiction and spirituality, even though I think they go naturally together (you always need something that keeps the sense of wonder going), so I was worried about all the hype being built up around the Transcendental Machine. I think it was resolved very well, though, and I didn't have to suspend my disbelief as much as I thought I would.
I hope that there's a sequel to Transcendental, because I would really love to spend more time in this universe!
You might also be interested in my interview with author James Gunn about Transcendental, how science fiction has changed over the years and other things.