Movies Watched: Jun 26 – Jul 2, 2016
[Jun 26] "Wayne's World" (1992)
Wayne Campbell (Mike Myers) and his friend Garth Algar (Dana Carvey) host Wayne's World, a silly but well loved public access television show. Their life becomes more complicated when they are discovered by Benjamin Oliver (Rob Lowe), who buys the show but wants to sell them out to a sponsor. Wayne's World is a pretty silly comedy, it was derived from a Saturday Night Live sketch. It's also apparently the movie that made Bohemian Rhapsody by Queen popular again (although I don't know why it ever faded from popularity). I don't have very much to say about it, I think it knew exactly what kind of movie it wanted to be and pretty much achieved it. I didn't enjoy Mike Myers' performance as Wayne, it seemed really exaggerated (compared to everyone else in the cast), but that may have been intentional.
[Jun 27] "Cowboy Bebop: The Movie" (2001)

A biological terrorist unleashes a deadly virus on Mars, and the bounty hunter crew of the Bebop must stop him before he is able to execute his master plan of releasing it all over the planet. I watched this after watching the entire Cowboy Bebop TV show (which I think is among the best shows ever made in any genre), so I'm not quite sure how to review this. I think it stands on its own, but I was just really excited to see Spike, Jet, Faye, Ed, and Ein again. It's got all the hallmarks of the show – the interesting science fiction, the noir, the music, the quirky characters, but it seemed a little diluted because the movie was so long (almost 2 hours) compared to an episode (~20 min). The Bebop isn't usually in the business of saving the world, but I thought that it was worked into the story in a plausible way. But yeah, I can't really review this objectively, I love Cowboy Bebop too much. Watch the show and watch this too!
[Jun 28] "Mallrats" (1995)
Friends Brodie (Jason Lee) and T.S. (Jeremy London) are dumped by their girlfriends on the same day and go to the mall to take their mind off things (and perhaps win back their girlfriends.) We're watching all the Kevin Smith View Askewniverse movies in order, and this was next after Clerks. I didn't like Mallrats as much as Clerks, actually I didn't care for it much at all. I don't think it was a terrible movie, it was just particularly average. It actually tried to have a plot, unlike Clerks, but I didn't agree with the plot, I don't think either of the couples involved had a good relationship, so I wasn't exactly cheering for them to get back together. I liked the friends they ran into, but every time it focused on the main plot, I was bored. Jason Lee has great comic timing, though.
[Jun 29] "To Wong Foo, Thanks for Everything! Julie Newmar" (1995)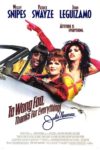 Three drag queens (Wesley Snipes, Patrick Swayze, and John Leguizamo) are driving from New York to Los Angeles when their car breaks down in a small town in middle America. At first they are afraid of being ostracized, but they end up learning more about themselves and also improving the lives of their temporary neighbors. I was looking forward to watching this movie because I'm a big fan of The Adventures of Priscilla, Queen of the Desert, which shares a similar concept, but unfortunately this was nowhere near as good. I found the portrayal of the Snydersville residents overly stereotyped (all the sexual harassment that was mostly just played for humor, the wife beating) and the problems too easily solved. I understand that it's a comedy, but there are plenty of comedies that respect humans more. On the other hand, all the drag queens did an outstanding job, especially Patrick Swayze. Also, uncredited Robin Williams cameos are great.
[Jul 1] "Neon Genesis Evangelion: The End of Evangelion" (1997)
This movie is an alternate/concurrent ending to the show Neon Genesis Evangelion (which had a pretty unsatisfactory last two episodes because it ran out of budget.) The secret organizatiom SEELE attacks NERV just as The Human Instrumentality Project is being initiated. Meanwhile, Shinji and Asuka are having a really hard time. Unlike Cowboy Bebop: The Movie reviewed above, this doesn't really stand alone at all, so I recommend watching the show first. This is a pretty depressing end to a pretty depressing series (although the show lulled me into thinking that it might be fun for a while), mainly because it explores psychological issues in a really intimate and uncomfortable way. I was glad to see the real world perspective of the events of the last two episodes of the show, and I was also glad that the characters had some resolution.
[Jul 2] "Nixon" (1995)

As should be obvious, this movie is a biography of the enigmatic Richard Nixon, the only U.S. President ever to resign. This is one of the three "American Presidency" movies by Oliver Stone, and the only one I hadn't seen yet – I really liked both JFK and W. We started watching this back in November, but it's pretty uncomfortably shot, and Nixon is not the most upbeat character, so we decided to stop. Watching Evangelion inoculated us against discomfort, so watching Nixon now was a much easier experience. It's clear that Oliver Stone isn't exactly sympathetic towards Nixon, but just like with W, he manages to make the man himself pretty sympathetic. Nixon was apparently well known for being very formal and not showing his feelings, and Anthony Hopkins does a really good job of playing him; he's smart and well-intentioned, but also tortured and possibly ruthless. The movie doesn't actually feel that long, despite being 3 hours and 32 minutes long, it switches between different time periods of Nixon's life, and we get a fairly well rounded picture of his life and why he is the way he is. I wished it had focused more on his successes, because he definitely had a few of those, but that would have made the tone of the movie too different, I guess.