Weekly Movie Reviews: Apr 2-8, 2017
Midnight Special (2016)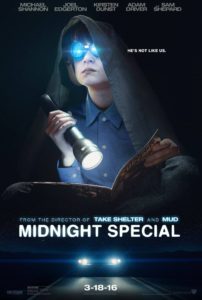 I remember watching the trailer for Midnight Special last year and being intrigued but not knowing quite what to make of it. It seemed like maybe it was a supernatural thriller (my notes for it said "small boy with laser eyes"), but it didn't seem very scary. It turns out that it's just a straight up sci-fi movie that pays homage to the "government chase" genre (like E.T. or Starman, which I've never seen) and it's very good.
The movie starts out with a TV playing an AMBER alert announcement for eight year old Alton, who was last seen with a man named Roy Tomlin (Michael Shannon.) Roy and Alton are watching this TV, and it's pretty clear that Alton has not been kidnapped – we soon find out that he's actually Roy's son, and they're on the run from a religious cult ("the Ranch") that has sprung up around him.
I won't go into too much detail about the story because I think that's best experienced through the movie. We don't know very much about what's going on at first, and the movie explains it slowly in a natural way through excellent dialogue. The characters accompanying Alton seem larger than life, especially in their support of Alton, but they also look and act like normal people that you know (a minor example is that Kirsten Dunst wears no makeup in this movie.) If you're expecting a neat ending where everything is explained in detail, you won't get it, but I don't think this movie needs that – it would take away from its genuine feel.
 Hidden Figures (2016)

Hidden Figures tells the story of the African-American women mathematicians and computer scientists who helped make NASA's space program a reality. There was very little chance that I wouldn't like this movie, since it combines a bunch of my favorite things – space exploration, computers/mathematics, underdog stories, and Kevin Costner. Many movies these days that explore racism or sexism aren't very subtle about it. Hidden Figures is not one of those movies and its depiction of the era and people seemed more realistic to me – widespread segregation and lots of subtext. I do wish the technical detail had been a little more interesting, every time there was a math-related scene, the concepts were heavily simplified, which took me out of the movie a little bit.
Kubo and the Two Strings (2016)
Disney/Pixar and Studio Ghibli make some of the best movies, and I often wish there were more good animated movies that tried to appeal to both kids and adults. I had forgotten about Laika, but they definitely fill that niche, based on the this movie and Coraline. Kubo and the Two Strings is the story of Kubo, a young boy who must find three pieces of magical armor to protect him from his grandfather the Moon King who wants to remove his humanity. It's an original story inspired by Japanese mythology, and it's creative, beautiful, heartwarming, and fun. It's got a great voice cast – Charlize Theron, Matthew McConaughey, Ralph Fiennes, etc. I enjoy the stop-motion aesthetic (and am in awe of the technique), and this movie does it particularly well.
Live by Night (2016)
I'm a fan of Ben Affleck's directing (Gone Baby Gone, Argo, The Town) and I've mostly enjoyed movies based on Dennis Lehane's books (Gone Baby Gone again, Shutter Island, Mystic River) so I was interested in seeing how Live by Night turned out. Affleck also stars in the movie as Joe Coughlin, a thief who tries to stay clear of organized crime, but is forced into getting involved when he falls in love with a gangster's mistress. We just follow the story of his life, the plot is pretty loose, although it's thematically coherent. I found this movie a lot better than I thought it would be and was shocked to find out that it was a commercial and critical failure. I particularly liked the character of Coughlin – he's in touch with humanity and is actually a pretty good guy, and he's the first gangster I've ever found relatable.
The Deer Hunter (1978)

Mike (Robert De Niro), Nick (Christopher Walken), and Steve (John Savage) are three friends from a small Pennsylvania town who decide to enlist to fight in Vietnam and it changes everything about their life. The Deer Hunter is one of the first movies to portray the effects of war in a gritty and realistic way, and it is an incredibly depressing movie. It's divided into three acts – before, during, and after their stint in Vietnam, and none of them are very pleasant. The actors are all incredible, especially Robert De Niro (who is not his usual reassuring self) and Christopher Walken. The movie is very realistic – as someone who dislikes crowds and parties, I found the wedding scene excruciating, even though all the characters seemed to be having fun. If this movie has a flaw, it's that it never lets up on the grimness, but I think that's probably by design. If you're just looking for entertainment, don't watch this movie, but otherwise, it's well worth your time.
Munich (2005)
After the assassinations of 11 Israeli athletes during the 1972 Olympics in Munich, the Israeli government secretly launched Operation Wrath of God, a convert mission aimed at eliminating the leadership of the Palestinian group that planned the attacks. Munich follows an assassination team lead by Avner Kaufman (Eric Bana), a Mossad operative as they track down various targets and eliminate them. The team is fairly inexperienced at first, but they're motivated and do their job fairly well, but the deeper they go, the murkier their mission becomes. This movie is based on the memoir of the Israeli agent who led this operation, and it's dark and compelling. I can't point to any flaws in this movie (except for one questionable sex scene near the end – you'll know it when you see it), but I didn't feel satisfied by it. Maybe it was that the juxtaposition of the stark horror of the Israeli athletes getting killed with the increasing moral ambiguity of the main storyline didn't feel very smooth? It's still definitely a movie worth watching.
A United Kingdom (2016)

Seretse Khama (David Oyelowo), the heir to the throne of Bechuanaland (future Botswana) falls in love with English woman Ruth Williams (Rosamund Pike) while studying in England. They marry but face stiff opposition from all quarters – Seretse's people disapprove of their king marrying outside of their own people, Ruth's family disapproves of her husband being black, and the English government tries to discredit Seretse's claim to chieftainship because of fear of losing the uranium trade with Botswana's neighbor South Africa, which has recently adopted apartheid policies. I generally love movies based on true historical events, but this one was bland and boring. David Oyelowo and Rosamund Pike don't have a lot of chemistry, and the supporting characters all seem like cardboard cutouts that are just doing what the plot wants them to.