"Assassin's Fate" by Robin Hobb
Warning: This review contains spoilers for the previous books in the Realm of the Elderlings series.
---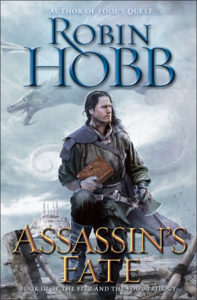 Robin Hobb's Realm of the Elderlings books are one of my favorite fantasy series' ever, and the ones featuring Fitz even more so. Assassin's Fate is the ninth book featuring Fitz (and the sixteenth book overall), so I already knew what it was going to be like and that I would love it.
Assassin's Fate picks up where Fool's Quest left off – Fitz and the Fool are in Kelsingra on their way to Clerres (the home of the White Prophets and their Servants), seeking revenge for Bee's abduction and presumed death. Bee is also on her way to Clerres, dragged along against her will by the Servant Dwalia. This has been the longest journey in the books so far, but the events of this book makes it all worth it. We've been seeing the corruption of Clerres and its effect on the Fool for many, many books now, and the conclusion of that arc is deeply fulfilling.
I've been worried about where Fitz would end up in this book, I intuited that it would be the end of his story (although I was desperately hoping I'd be wrong) because of the title of the book as well as some of Bee's dreams from previous books. I don't want to the spoil the book so I'm not going to confirm or deny my suspicions, but I will say that the ending is more than satisfactory, and that this is one of the rare books that I'll admit made me cry (and it's not just me, the Assassin's Fate discussion on the Robin Hobb subreddit was full of people saying they cried).
I'm not sure what Hobb is writing next, but I hope it's another book in this world. I'll happily read whatever she writes though.