Movie review: The Handmaiden (2016)
You may have noticed that I haven't written many "Weekly Movie Reviews" posts lately. My husband and I are still watching a movie every day, but I've decided to write longer reviews of particularly memorable movies instead of trying to review every single movie I watch.

---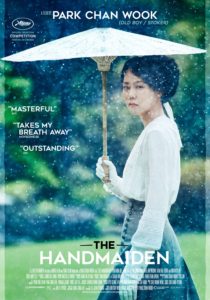 I've been looking forward to watching The Handmaiden for a bunch of reasons – it was a recommendation from my friend Hareen, it's won universal acclaim, and I enjoyed director Park Chan-wook's Oldboy. Plus I'm a sucker for period dramas, especially ones set outside the United States or Britain.
In Japanese-occupied Korea in the 1930s, Sook-hee is on her way to a remote manor to start a new job as the handmaiden (lady's maid) to heiress Lady Hideko. She seems like the epitome of an enthusiastic and helpful servant, but we soon we find out that her reasons for accepting this new job are not as straightforward as they seem. I don't want to say anything more about the plot because the way new plot developments are introduced into the narrative is part of what makes this movie so good.
The Haidmaiden is heavily stylized. The setting, the people, the clothes, pretty much everything is beautiful on the outside, but the themes the movie explores are anything but – there's plenty of greed, seduction, betrayal, perversion, tyranny, and more. Director Park Chan-wook is fantastic at melding arresting visuals with twisty psychological intrigue (although this is only the second movie I've seen by him) and this movie improves upon Oldboy with much more compelling characterization and a welcome dose of humor.
Through the first hour or so, I kept noticing little flaws and inconsistencies in how people acted, I thought they were small and forgivable lapses. But then we see the same events from a different perspective and it becomes clear that you were supposed to notice and wonder about them, and I love it when a movie rewards me for being detail oriented.
There are a lot of good things going for this movie, but in my opinion, its success rests squarely on the shoulders of the actresses playing Sook-hee (Kim Tae-ri) and Lady Hideko (Kim Min-hee). Their two characters are opposites in many ways. Sook-hee is cheerful, curious, and wears her heart on her sleeve (despite her deceit). Lady Hideko is quiet, melancholy, and almost never shows her true feelings. They have a complicated relationship but the chemistry between them is undeniable and forms the emotional center of the story.