The Chalion series by Lois McMaster Bujold
Lois McMaster Bujold is one of my favourite authors. I read the Vorkosigan saga last January and I can't really find words to describe how much I enjoyed it (here are Jo Walton's thoughts, though). I wanted to read her other books immediately, but I didn't really want to ever run out of new Bujold books to read, so I ended up putting off reading the Chalion series until now. (I still have The Spirit Ring and The Sharing Knife series to read). I'm still not sure that I can find adequate words to describe why I loved these books, but I will try anyway.
The Curse of Chalion follows Cazaril, a former soldier who just wants to settle into a quiet life after he returns from being a prisoner of war. However, he ends up finding a place as the secretary-tutor to the royal princess, and with it come all the expected dangers of court, and some unexpected supernatural dangers.
Cazaril is a delightful protagonist – he's self-effacing yet witty, noble without being foolish and he sees the world as it is, but doesn't want or expect it to be more. He's no Mary Sue, though – he's just a good person. The rest of the characters also leap off the page – Bujold's skill at characterization is unsurpassed. The theology of the world is fascinating – five gods that actually listen to prayers and do what they can to help.
---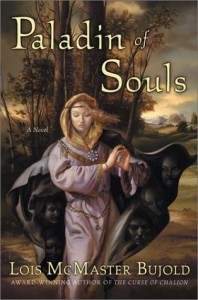 Paladin of Souls follows Ista, a secondary character from The Curse of Chalion. Ista, the dowager queen of Chalion, has been freed from the terrible curse placed on her, but everyone around her still believes she needs to protected from herself. In order to relieve herself of her utter boredom, she sets out on a pilgrimage, but it turns out that the gods are not quite done with her.
This was probably my favourite of the Chalion books. Ista is an unusual fantasy protagonist – she is a middle-aged woman that is utterly indifferent towards her life and weighed down with guilt about her past. She does find some purpose and joy in her life, yes, but as usual with Bujold, the journey is much more important than the destination. The characters are spectacular, as always (the review of this book by Booklist that I found on Amazon says "Bujold couldn't characterize badly if threatened with a firing squad"), and I was glad to see Ferda and Foix back. The theology gets further advanced with more detail into how demons work, but it all fits together nicely.
---
The Hallowed Hunt is not set in the same time period (I believe it's hundreds of years earlier), or even in Chalion. We follow Ingrey, a noble of the Weald, who has been entrusted to accompany the mad prince Boleso's murderer, Lady Ijada, to the capital for trial and probable death. However, Ingrey discovers that he has far more in common with Ijada than he thought, and in fact, she might be the only person he can trust.
Ingrey is an entirely different protagonist from Cazaril and Ista – he does not have their uncertainty or wry sense of humour or ruminations on theology. He's a soldier first, and this book's presiding deity (if one exists) is the Son. The gods' influence and limitations are explored further, and a new magic system is introduced within the same framework of souls/spirits, demons, and free will. I liked this book a lot, but not as much as the other two.