Movies Watched: Mar 11 – Mar 20, 2016
[Mar 11] "The Horse Whisperer" (1998)

When Grace (a young Scarlett Johansson) suffers from a traumatizing accident with the horse, her mother is determined to help her (and her equally traumatized horse) and finds a uniquely gifted horse trainer to help them. I was expecting an inspirational movie where Grace learns to conquer her fears, and there's a lot of that, but the main focus of the movie is a romance between Grace's mother Annie (Kristen Scott Thomas) and the "Horse Whisperer" Tom (Robert Redford). I don't mind that the movie didn't end up being what I anticipated, but I found the characters somewhat frustrating (more on that in the spoiler section below), so I didn't enjoy the movie as much as I'd have liked to. On the plus side, Montana is beautiful, and I enjoyed seeing the ranch life.
[Mar 12] "The Hateful Eight" (2015)
We're Tarantino fans, so we were pretty excited about his newest movie. Set sometime after the Civil War, eight strangers are trapped in a cabin together by a blizzard, but they all have hidden agendas and not everyone is going to leave alive. The Hateful Eight has all the hallmarks of a Tarantino film: incredible atmosphere, non-chronological storytelling, extreme but cartoonish (and almost beautiful) violence, a pulpy revenge story. Maybe we've been watching too many of his movies recently though, or maybe my expectations were too high – it didn't seem as original as his other movies (the tension between a group is reminiscent of Reservoir Dogs, and the setting is similar to Django Unchained), and it didn't blow me away. It's certainly nowhere near a bad movie though.
[Mar 12] "Our Brand is Crisis" (2015)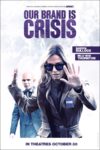 A weary political consultant (Sandra Bullock) is hired to help re-elect a controversial ex-President of Bolivia to office, and his main opposition's campaign is being run a longtime rival. I thought this movie would be comedic than it ended up being, it's a pretty jaded look at the world of politics. It's not very subtle sometimes but I enjoyed the cast (or in the case of Billy Bob Thornton, really didn't like him, which helped me be invested in the outcome of the Sandra Bullock's character's campaign). I don't think this movie was great, but it was solid and I enjoyed it. (However, I'm automatically heavily biased towards enjoying political movies, especially set in foreign countries.)
[Mar 13] "Marie Antoinette" (2006)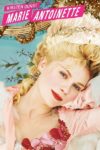 A biopic of Marie Antoinette from her marriage to Louis XVI to the fall of Versailles. This was one of the most exceptional movies I've watched in the last few months; I thought it was brilliant. It's a very sympathetic portrayal of Marie Antoinette (played by Kirsten Dunst), and Sofia Coppola (as usual) does an incredible job of conveying her isolation and disappointment with her new life. It's not made in the usual biopic or historical drama styles, the storytelling is very contemporary and occasionally uses modern music (one particular montage set to "I Want Candy" stands out), but it's very effective. Jason Schwartzman is surprisingly good in the role of Louis XVI, and it's nice to see his relationship with Marie Antoinette evolve.
[Mar 13] "Kingsman: The Secret Service" (2014)

Harry Hart (Colin Firth) recruits the unsophisticated but gifted son (Taron Egerton) of a former colleague into the Kingsmen, an independent spy agency, just in time to stop a maniacal tech billionaire (Samuel L. Jackson) from unleashing a genocide. This movie is based on a comic book by the same author as Kick-Ass, and has the same sort of over the top storytelling, except applied to the James Bond type spy genre instead of the superhero genre. Everyone seemed to love this movie, but I didn't think it was notably good. It was well-made, and it had a good cast playing against usual type (especially Colin Firth and Samuel L. Jackson), but it kind of reminded me a Doctor Who episode (which everyone still loves too). I didn't really enjoy the humor or the violence, it seemed like a bad attempt at a sillier Tarantino movie. It was entertaining, though.
[Mar 14] "Enemy of the State" (1998)

A hapless lawyer (Will Smith) accidentally receives evidence implicating a corrupt politician who happens to have NSA's resources to chase him down with. This is an extremely prescient movie about the dangers of the surveillance state, and it's also a fun fast-paced action movie (it's directed by Tony Scott, how could it not be). Gene Hackman is particularly great as the professional ex-NSA paranoid. Even the minor characters in this movie are often played by semi-famous actors, which is pretty cool.
[Mar 15] "Jack Reacher" (2012)

Jack Reacher, an ex-military policeman investigates the case of a sniper who killed five random people with the help of the sniper's defense attorney (Rosamund Pike). I hadn't heard very much about this movie before I watched it, so I wasn't sure what to expect, but I enjoyed it very much. Tom Cruise plays a compelling intense loner, and the movie flouts a lot of the conventions of the mystery thriller genre. There's good tension, the action is fun, and the plot is a bit convoluted, but who cares. I particularly enjoyed Robert Duvall's character (and he's from Ohio!)
[Mar 16] "Extremely Loud and Incredibly Close" (2011)
Oscar, a nine year old in New York finds a mysterious key left in his father's belongings after he dies during 9/11, and he's convinced that he needs to find the lock that matches it. This is a touching movie about growing up and moving on (his grief is extremely sympathetic, but even more so because his dad is played by Tom Hanks, who has to be one of the most reassuring people on the planet), as Oscar goes through everyone in the phone book named "Black" (based on a note found with the key), and conquers many of his anxieties in the process. He also makes friends with a mysterious mute boarder living with his grandmother (played with panache by Max von Sydow). Thomas Horn does an incredible job of playing Oscar, who can be pretty obnoxious but you can't help feeling for. Sandra Bullock also does a great job as his mom, I didn't even recognize her until halfway through the movie.
I read this book a while back, but I don't remember it very well, so I can't judge the movie in relation to it, but I thought it was really good, and not too melodramatic despite the subject.
[Mar 17] "50/50" (2011)

Adam (Joseph Gordon-Levitt) is a 27 year old living a pretty normal life until he's diagnosed with a rare cancer. Given that Seth Rogen was in this, I thought it would be more of a comedy, but it's another movie about growing up and getting in touch with who you really are (Seth Rogen's character is still very crude and pretty outrageous, but he also has heart.) I love Joseph Gordon-Levitt (who doesn't) and it's great to watch his character be more confidently himself throughout the movie. Anna Kendrick usually plays pretty irritating characters, but she's actually cute in this.
[Mar 17] "A River Runs Through It" (1992)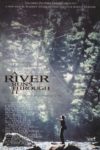 Based on a true story, the movie is about two brothers from rural Montana, and their life growing up, figuring themselves out despite their strict upbringing, and doing a lot of fly fishing. This movie was directed by Robert Redford, who seems to love Montana (he also did The Horse Whisperer, reviewed above.) I don't think this movie is about anything in particular, just the lives of the two brothers – Craig Sheffer plays the protagonist, Norman, and Brad Pitt plays his rebellious younger brother, Paul. Paul reminded me a bit of Brad Pitt's character in Legends of the Fall, another rural movie where he's somewhat wild, but he's screwed up in different ways. I always like seeing movies set in times and places that I haven't before – early 20th century Montana is new to me, and the movie establishes atmosphere very well. Recommended.
[Mar 18] "The Good Shepherd" (2006)

Edward Wilson (Matt Damon) has been a CIA company man for most of his life (from when it was the OSS). The movie starts off with an investigation into a leak about the Bay of Pigs invasion, and as he investigates, we see his whole career unfold in a series of flashbacks. This movie is directed by Robert De Niro (who I didn't even know directed movies, and it's both a great drama and a great quiet spy movie. The early history of the CIA is fascinating – I'd never really thought about how the very first spies were recruited. Matt Damon is really good as Wilson, growing more stiff and cold as he gets better at his job. I thought Angelina Jolie was a bit wasted as the alcoholic wife (I kept expecting her to do more), but she's good, of course. Many of the minor characters are played by pretty notable actors, including a cameo by (ordinarily retired) Joe Pesci.
[Mar 18] "Focus" (2015)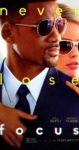 Veteran con man Nicky (Will Smith) runs into old flame/protege Jess (Margot Robbie) during his latest scheme and he can't stop obsessing over her. This was a very weird movie, both in its structure and its story. I usually enjoy movies about cons, they usually rely on misdirection, but I felt like things just happened in this one, and even when various cons were revealed, they didn't have the whole "oh of course that's what they did" moment that similar movies do. And cons are usually pretty far fetched, so without the proper structure, the ones in the movie just came off as being ridiculous. Not paying attention to cinematic conventions can be great when done well, but I feel like in this case, they just made it flat.
[Mar 19] "Primal Fear" (1996)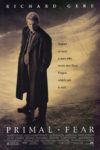 I've always avoided this movie because based on the name, I thought it was a horror movie, but it's actually a courtroom thriller. Ambitious lawyer Martin Vail (Richard Gere) takes on the case of a young and guileless altar boy, Aaron (Edward Norton), accused of killing the Archbishop that gave him a home off the streets. Aaron was caught fleeing the scene covered in blood, but the truth isn't always as clear cut as it seems. Edward Norton is amazing as Aaron, doubly so because this was his first movie. I liked the rest of the characters too, they were fleshed out much better than many other movies of this genre.
[Mar 19] "Dr. No" (1962)

We've decided to go through all the James Bond movies in order. I'd only ever seen Die Another Day, Casino Royale and Skyfall, so I was looking forward to starting at the beginning with Dr. No.
James Bond is sent to Jamaica to investigate the disappearance of a British agent and ends up uncovering a plot to disrupt the American space program by the nefarious Dr. No. It's a fun movie, although I kept having to remind myself to view it through the lens of the times; the casual chauvinism was somewhat distracting, and some of Bond's decisions seem pretty questionable. I didn't know how many of the Bond conventions (the unique title credits, the music, the Bond girls, "Bond. James Bond", etc.) were established from the very beginning, that was interesting to see. Sean Connery is great as Bond, I understand why everyone loves him now.
[Mar 20] "The 33" (2015)

This movie tells the recent true story of 33 Chilean miners who were trapped inside a collapsed mine for 69 days. It's a pretty formulaic movie; it's not better or worse than any other movie of the "real life dramatic event" genre. I don't know much about mining though, and I was pretty interested in the mechanics of solving a problem like how to rescue people in a closed cave 700 meters underground. Antonio Banderas plays the miner who takes charge and the story focuses the most on, which I was amused by because one of his subplots involves reassuring the other miners that he won't put himself above everyone else as far as publicity goes.
[Mar 20] "Forgetting Sarah Marshall" (2008)
Peter (Jason Segel) takes a Hawaiian vacation to get over his recent break up with his girlfriend of five years, Sarah Marshall. Unfortunately for him, Sarah and her new boyfriend, Aldous have decided to vacation at the same resort. Although he runs into them constantly, with the help of resort employee Rachel (Mila Kunis), he starts to become himself again. This movie was cuter than I thought it would be; it resists the temptation to make either Sarah or her boyfriend into villains, instead reflecting that people can have good sides and still do really horrible things to other people. Russel Brand is really funny as the outrageous rockstar Aldous Snow, and Mila Kunis and Jason Segel have great chemistry.