[Mar 21] "The Bodyguard" (1992)

A former Secret Service agent turned bodyguard for hire (Kevin Costner) takes a new job guarding a pop star (Whitney Houston) who has a dangerous stalker. At first the two are at odds over security requirements, but they slowly develop feelings for each other. As much as I like Kevin Costner, this wasn't a great movie; it's very melodramatic and it tries to do too much – it's a romance, a thriller (with a couple of unexpected twists), and it's also a showcase for Whitney Houston's singing (which is very good, but distracts from the tightness of the movie.)
[Mar 22] "eXistenZ" (1999)
Allegra Geller (Jennifer Jason Leigh), a leading game designer, is testing her new masterpiece eXistenZ with a focus group when she's suddenly attacked by an assassin and forced to escape with only a marketing trainee Ted Pikul (Jude Law) as her bodyguard. Unfortunately the only copy of eXistenZ is damaged during the escape and Allegra and Ted have to play through it to determine if it still works as intended. This is a really weird movie about virtual realities within other virtual realities, and I found it really uncomfortable in a couple of different ways – the characters change constantly because they can be overriden by the game and so they don't feel real enough to invest in, and the organic body horror aesthetic of the game eXistenZ really creeped me out. The concept of the movie is pretty interesting, but I can't say whether this was a good movie or not because my visceral reaction makes me far too biased.
[Mar 23] "The Guardian" (2006)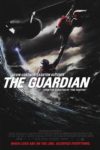 This movie tells the story of two Coast Guard rescue swimmers – Ben Randall (Kevin Costner), a veteran turned instructor who is recovering from the rest of his crew being killed, and Jake Fischer (Ashton Kutcher), a cocky high school swim champion that's in Randall's rescue swimmer class. The structure of the movie is a lot like Top Gun, where most of it is spent in training, but there's a real mission at the end. Unlike Top Gun, though, there are two protagonists. For most of the movie, I didn't think it was great, but I was enjoying it fine. The end was really melodramatic and kind of ruined the movie for me.
[Mar 23] "A Knight's Tale" (2001)
William Thatcher (Heath Ledger) is a squire to the knight Sir Ector. When Sir Ector dies unexpectedly just before he is due to joust at a tournament, William takes his place and acquires a taste for jousting. He just can't be caught because only nobles are allowed to joust. This is a pretty classic story, but it's heartwarming and wonderful. Heath Ledger is adorable as the protagonist, Paul Bettany is having way too much fun as the penniless gambling Geoffrey Chaucer (who happens to be William's herald), and William's rival Count Adhemar (who of course has his eye on William's love interest) is satisfyingly villainous.  I predict that I'm going to be coming back to this movie many times.
[Mar 24] "Straight Outta Compton" (2015)
A biographical drama based on the rise and fall of the pioneering hip-hop group N.W.A. from Compton, CA. I really didn't know much about the history of hip-hop, so I found this movie really interesting (and it's a good movie, too!)  The atmosphere really draws you in, and everything in the movie felt pretty realistic. The movie focuses mainly on Ice Cube, Dr. Dre and Eazy-E, who are all played excellently (Ice Cube is actually played by his real life son), they don't always come off as the nicest people, although you're still ultimately sympathetic to them. Paul Giamatti is also great as N.W.A. manager Jerry Heller. Recommended!
[Mar 25] "The Postman" (1997)
In a post-apocalyptic America ruled by tyrants, a drifter (Kevin Costner) finds a derelict postal truck and inspires hope by restarting the postal service. This was a re-watch, this isn't a very well-loved movie but I really like it. Kevin Costner is a good director (as proved by Dances With Wolves), and the world of the movie is interesting. Besides, I love the idea of civic services and institutions inspiring social progress, that's pretty much what civilization invents as it progresses, so I think it's great to see that work in reverse. I also love Larenz Tate as Ford Lincoln Mercury, and Tom Petty as himself. The romance is a bit weird, but that's okay.
[Mar 25] "Four Weddings and a Funeral" (1994)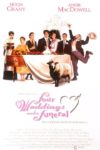 This movie tells the story of the romance between Charles (Hugh Grant) and Carrie (Andie MacDowell) over the course of four weddings and a funeral. I thought it was entertaining, Hugh Grant plays the awkward eternal bachelor with far too many ex-girlfriends pretty well, and Andie MacDowell is confident and charming as Carrie. There's something about a lot of 90's romantic comedies (like this one) that rubs me the wrong way though, they seem too cavalier and the romances seem too impulsive for me to be satisfied when the couple actually gets together.
[Mar 26] "O Brother, Where Art Thou?" (2000)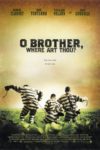 O Brother, Where Art Thou? is about the adventures of three convicts in 1930s Mississippi (played by George Clooney, John Turturro, and Tim Blake Nelson) who escape from a work gang. It's loosely based on the Odyssey, which I'm not very familiar with, but the sirens, and the prophet/oracle were pretty recognizable, and John Goodman plays a one eyed character that I think is supposed to be analogous a cyclops. This was definitely a good movie – it's well shot, the setting is really interesting, the acting is impeccable, and I appreciated all that on an intellectual level, but I don't know if I actually liked the movie. I don't even know why it left me so ambivalent.
[Mar 26] "The Pelican Brief" (1993)
In response to the recent murders of two Supreme Court justices, law student Darby Shaw (Julia Roberts) writes a brief explaining what she thinks is going on. When her apartment is burgled and she's almost blown up, she realizes she's on to something, and goes to intrepid reporter Gray Grantham (Denzel Washington) for help exposing the story. I was pleasantly surprised by this movie, I expected it to be the usual run of the mill thriller (but with a good cast), but it was actually really enjoyable. The characters are actually smart, so the events following them aren't as cliched as usual, and the pacing is great – the movie isn't afraid to take a pause between the action when it needs to. Highly recommended.
[Mar 27] "Conspiracy Theory" (1997)

Mel Gibson plays Jerry Fletcher, a New York taxi driver obsessed with a whole bunch of conspiracy theories. When someone actually starts trying to kill him, he has to figure out what's going on, and the only person he trusts is a lawyer who doesn't believe any of it (Julia Roberts). I found this movie really uncomfortable, Mel Gibson does a very good job of playing a mentally unstable person (between this and Taxi Driver, I'm kind of terrified of New York cab drivers now.) Also, Patrick Stewart plays the bad guy, and I couldn't take him seriously because his character was not very subtle, and I'm just used to finding him reassuring as Captain Picard. I was hoping it would be more of a comedy (the summary sold it to me as "he believes all these crazy things, he has to figure out which conspiracy is actually true!") but that wasn't the case at all.
[Mar 28] "Hanna" (2011)

Hanna (Saoirse Ronan) has spent all her life in remote Finland, training with her father (Eric Bana) to be an assassin for a very important mission. When she finally starts her mission, she finds the world to be a much more interesting place that she'd imagined, but she can't stop too long to enjoy it because she's being pursued by a ruthless CIA agent (Cate Blanchett) and her minions. I liked the premise of the movie, but I don't think that the execution was very good. It seemed like two movies that were haphazardly blended into one – an action thriller with a breakneck pace, and a drama about a sheltered girl meeting the world for the first time.
[Mar 29] "Spotlight" (2015)
I've been wanting to see this movie ever since I first saw the trailer, and even more so when it won Best Picture at this year's Oscar. It's based on a true story of the Boston Globe's investigation into the Catholic church's systematic cover ups of child sexual abuse by priests. Given the subject, it would have been really easy for Spotlight to veer into melodrama, but it never does. Instead we get a tight movie about investigative journalists doing what they do best. It's very realistic, the cast is absolutely terrific, and I can't think of a single negative thing to say about it.
[Mar 30] "Magic Mike" (2012)

Recent college dropout Adam (Alex Pettyfer) is introduced into the world of male stripping by the more experienced "Magic" Mike (Channing Tatum) and finds that he has a talent for it. As Adam descends deeper and deeper into the partying lifestyle that comes with being part of their group, Mike struggles to get out out of it and realize his dream of owning his own custom furniture business. This movie was based on Channing Tatum's experiences as a male stripper (he's very good at it), and despite the fun of the well choreographed strip show scenes, it's kind of a sad story. Adam, his sister, and Mike are the main focus of the movie – most of the other characters aren't very well fleshed out. I did enjoy seeing Matthew McConaughey as Dallas, the ex-stripper running the show – he's both sleazy and reassuring in the way only he can be.
[Mar 31] "Cry Freedom" (1987)

Set in late 1970s South Africa, this movie tells the story of the newspaper editor Donald Woods (Kevin Kline) and how his friendship with activist Steve Biko (Denzel Washington) inspired him to fight for black rights. It's made by Richard Attenborough, who's very good at these kinds of stories – he also made Gandhi. Denzel Washington is absolutely perfect as the charismatic Biko, and Woods' transition from being skeptical of his points to passionately supporting him makes total sense. The movie loses some momentum when Biko is killed (although there are still some flashbacks), and turns into an somewhat different movie when it starts focusing on the Woods family's escape from South Africa. It's still very good, though, and I think it's notable that it was released when apartheid was still in effect in South Africa.