Movies Watched: Apr 11 – Apr 23, 2016
[Apr 12] "Castle in the Sky" (1986)

Two children, Sheeta and Pazu, go on a quest to find a mysterious floating castle, pursued by pirates and secret agents. This is the first movie officially released by Studio Ghibli (we're watching all the Ghibli movies chronologically). I enjoyed this movie, it was more of a fun adventure movie than other Ghibli movies I've seen, although there are still definitely themes of environmental balance and the characters aren't very black and white. I was really drawn into the world and mythology of Castle in the Sky, I wanted more movies set in the same world. Sheeta and Pazu aren't as complex as some of the older Ghibli characters, but I liked their relationship a lot.
[Apr 12] "Menace II Society" (1993)

Caine, a young man from the projects (Tyrin Turner) who's just graduated from high school tries to figure out what kind of life he wants – the usual life of drugs and violence that his friend O-Dog (Larenz Tate) lives by, or a new life far away from everything he knows. Menace II Society is a very good movie, although it's also pretty depressing. The casual violence kind of horrified me – especially Larenz Tate's character, but I guess it's a reality in some parts of the country. There are some great scenes – the shots and angles that make you feel like you're right there with the characters. Caine is a very sympathetic protagonist, even when he makes really dumb decisions.
[Apr 13] "Wing Commander" (1999)

In the 27th century, humans are at war with the ruthless alien Kilrathi, who've just captured a NAVCOM that will allow them to jump straight to Earth. It's up to rookie pilot Christopher Blair (Freddy Prinze Jr.) and the battle cruiser he's been assigned to to stop the fleet. This is not a very good movie (the dialogue is especially horrible), but it's set in space and it involves spaceship fights and aliens, so it was still pretty enjoyable. I wish that the world of the movie had been better explained – they mentioned enough things (like about the Pilgrims) for it to be intriguing, but there was no real payoff.
[Apr 14] "Sideways" (2004)
Miles (Paul Giamatti) and his friend Jack (Thomas Haden Church) take a week long vacation in California wine country in anticipation of Jack's upcoming wedding. They're very different from each other – Miles is uncertain, lonely, and depressed, and Jack is determined to have as much fun and sex as he can. I really liked this movie, Paul Giamatti in particular is terrific as Miles. He conveys a billion things at once without having to say a single word. I always like movies about people growing and changing, and Sideways is extremely honest about how hard that can be. I also really like Sideways for showing people who are almost obsessively knowledgeable about something (wine) without making fun of it.
[Apr 15] "Tombstone" (1993)

The famous lawman Wyatt Earp (Kurt Russell) decides to leave his past behind and moves in Tombstone, AZ to go into business. Unfortunately for him, the outlaw gang The Cowboys won't leave the town alone, and he's forced to intervene, along with his two brothers and his friend "Doc" Holliday (Val Kilmer). This is based on real events, and it's a really good movie. I'm a fan of both Kurt Russell and Val Kilmer, and I was really glad to see them in a movie together, being friends. Kurt Russell doesn't have any of his usual smirkiness about him, but he's great. Val Kilmer gets to have pretty much all the smirkiness of the movie, and he's also great. The story is tight, the characters are three dimensional (even the outlaws), and the details of the world are done well.
[Apr 16] "Traffic" (2000)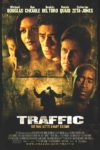 A bunch of connected stories about the drug trade in the US – the new "drug czar" appointed by the government (Michael Douglas) discovers that his daughter is a crack addict, a Mexican police officer (Benicio Del Toro) struggles with the situation he's in, a drug baron's wife (Catherine Zeta-Jones) comes to terms with her husband's business after he's jailed, and a couple of DEA agents (Don Cheadle and Luis Guzman) protect an informant. Each of the stories has a different color tone, which I found a bit distracting at first, but it did make it really easy to figure out whose story I was watching. The actors were all really good, I found some of the storylines a bit melodramatic though (especially Michael Douglas'). It's a good movie though, and a good look at the kinds of issues caused both by drugs and the drug war.
[Apr 17] "American Hustle" (2013)

Based on a true story, conman Irving Rosenfeld (Christian Bale) and his partner Sydney Prosser (Amy Adams) are forced to work for FBI agent Richie DiMaso (Bradley Cooper) as part of a sting operation. DiMaso's ambition pushes them into cons with much higher stakes than they're used to, though, and they find themselves in dangerous waters. Movies about cons are usually pretty great, and this one is no exception – it's even better than most because of the stellar cast. Christian Bale is almost unrecognizable as Rosenfeld, and he does a great job as always. I also thought Jeremy Renner was really good as the good hearted politician Carmine Polito, and I've never seen Jennifer Lawrence in a role like this – she plays Rosenfeld's insecure and unpredictable wife to perfection. And Bradley Cooper, who's usually so reassuring, really had me on edge every time he was on screen. I'm going on and on about the cast, but everything else about this movie was good too!
[Apr 18] "The Color of Money" (1986)
We were inspired to watch this movie by Roger Ebert's "Tom Cruise formula" in his review of Days of Thunder. The Color of Money features retired pool player/hustler "Fast Eddie" Felson (Paul Newman) discovering cocky young pool player Vincent (Tom Cruise) who he believes can be a first rate hustler just like himself. With the help of Vincent's girlfriend Carmen, he persuades Vincent to go on a road trip through various pool halls, but it doesn't quite work out as planned. I was expecting a typical movie where Tom Cruise charms everyone around him and accomplishes something huge at the end, and although there's elements of that, it's really more of a character drama about the interactions of Fast Eddie, Vincent, and Carmen. It's made by Martin Scorcese and so of course it's very well-made. My only complaint was that this movie is apparently a sequel to The Hustler (1961) which I haven't seen – I felt like it would've been helpful if I had because I didn't quite get the payoff of Fast Eddie's arc.
[Apr 20] "Message in a Bottle" (1999)

Newspaper researcher Theresa (Robin Wright) finds a love letter in a bottle washed ashore from a man to his dead wife, and tracks down the writer, Garret (Kevin Costner). They start to fall in love, but the ghost of his wife makes it hard to have a future together. I really wasn't expecting much from this movie (I know it's based on a Nicholas Sparks novel, and while I haven't actually read one, everything I know about them makes them seem melodramatic in a very generic way) but I like both Costner and Wright, so I wanted to watch it. It wasn't a great movie by any means, but there were some good things about it – Paul Newman is really great as Garret's dad, the area where Garret lives is beautiful, and the romance is realistically complicated. The ending frustrated me – it reminded me a lot of the frustration I had at the ending of The Guardian.
[Apr 21] "My Neighbor Totoro" (1988)

Two young sisters, Satsuki and Mei, move to the countryside with their father in order to be near their ill mother. They have a bunch of adventures, mostly with Totoro, a spirit of the nearby forest. My Neighbor Totoro is a much simpler movie than the previous two Ghibli movies (Nausicaä of the Valley of the Wind and Castle in the Sky) – it's a story about kids having adventures, there are no antagonists, and the main conflict is just traditional sibling misunderstandings. I think a lot of people really love this movie because it captures childhood so well, but I didn't identify with this movie very much because I'm an only child, and as a kid, I usually shut myself in and read books – I didn't ever run around. It's cute, it's magical, and it's a great movie, but it's not my favourite of the Ghibli movies so far.
[Apr 22] "The Sting" (1973)
When his partner is murdered by a mob boss, young con man Johnny Hooker (Robert Redford) teams up with veteran of the "big con" Henry Gondorff (Paul Newman) to take him down. The Sting is a great movie – it's got a lot of twists and turns as any good con movie should, but it's not ostentatious and flashy about them. Paul Newman and Robert Redford are terrific together. I always find it really hard to review movies that I like a lot because everything just works well together, there's not a lot to single out. One thing I did find interesting was the number of people involved in the scam; usually movies tend to be about a few guys pulling off something huge.
[Apr 23] "Rounders" (1998)

Reformed gambler Mike (Matt Damon) goes back to playing high stakes poker to help his friend Worm (Edward Norton) out of his debts. I loved this movie when I first saw it years ago, and that hasn't changed at all. Edward Norton's character Worm is particularly infuriating, he plays a very convincing sleazeball and lives up to his name entirely. Matt Damon is a master of playing sympathetic protagonists who may be making questionable life decisions (Good Will Hunting, The Good Shepherd, The Informant! to name a few), and he really sells you on his conviction that poker is something he can win consistently at. Rounders is predictable but it's so well executed that that doesn't matter at all, and it leaves you feeling great.
[Apr 23] "The NeverEnding Story" (1984)

Bastian is a lonely young boy that's often tormented by bullies at school. One day, when running away from them, he finds a mysterious book about the land of Fantasia and the hero Atreyu, but as he reads it, it turns out the the story might not be as fictional as he assumed. I really enjoyed the book when I first read it, but I'd read it long enough ago that I didn't remember the details. It's a pretty fun adventure story, and the actor who plays Atreyu (Noah Hathaway) does a great job of playing a warrior that also happens to be a child. The setting and the creatures are pretty well done, although Falkor seemed a little odd. I can't help comparing it to the book though (I reread it immediately after the movie), and I wish they'd retained some of Bastian's character growth rather than just making it a fun adventure for a lonely boy.