Movies Watched: Jun 5 – Jun 11, 2016
[Jun 5] "Wide Awake" (1998)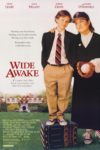 Wide Awake is M. Night Shyamalan's first wide release film, and it's an entirely different genre than most of his later movies – it's a comedy-drama. When ten year old Josh's grandfather dies, he begins to question his faith and goes on a quest to find God for himself. He grows along the way and figures out more about both the world and himself. I was afraid that this movie would be hokey, but it was cute and poignant. All the kids do a great job, especially the actor who plays the precocious and smart protagonist. It's definitely an indie movie, but I'd recommend it.
[Jun 6] "Wall Street" (1987)
I probably don't need to summarize Wall Street, but here goes: Bud Fox is an ambitious stockbroker who gets the chance to work with his idol Gordon Gekko, a ruthless trader of companies. He becomes successful, but he's also involved in some pretty shady stuff, and eventually has to reconcile that with the values of his blue collar father. I love this movie, this was a rewatch, although I hadn't seen it in about six years. It's still just as good, and the "greed is good" speech is still very memorable (Michael Douglas is fantastic in this movie.) It's also just a terrific story in terms of character arc, the ambiance is great, and it's nice to see Martin Sheen and Charlie Sheen play father and son.
[Jun 7] "Toy Story 2" (1999)
Andy's toys are back! When Woody is stolen by a toy store owner in order to sell him to a museum, Buzz and a few more of the toys set out to rescue him. But Woody is enjoying his newly discovered life of fame as the star of the TV show Woody's Roundup and isn't sure if he actually wants to be rescued. Toy Story 2 cemented the franchise as one of my absolute favourite film series', there's adventure, fun, and tons of heart. Tom Hanks is really great as Woody as always, and I loved the new additions, especially Joan Cusack as Jessie the yodeling cowgirl.
[Jun 8] "Toy Story 3" (2010)

Andy's off to college, and the toys accidentally end up in a day care center instead of the attic. The toys are initially happy to be played with instead of abandoned, but things quickly take a turn for the worse and Woody must figure out how to get them home. I don't know what else to say about Toy Story 3 that I haven't said before, but I absolutely loved it. I didn't like the choice of the antagonist as much (it's not a human), but that's a minor quibble. There's more adventures, more new toys, more Woody and Buzz, and even Sid makes a (non-terrifying) reappearance. And the end scenes made me really emotional. I'm so glad they're making a Toy Story 4.
[Jun 9] "Blank Check" (1994)
This is a mediocre movie about a kid who sort-of-accidentally ends up with a million dollars and has a bunch of fun with it while also being chased by the ex-convict whose money it actually is. We watched it mainly because Joseph remembered enjoying it when he was a kid. It's not terrible, it's silly, there are some cute moments, but it's also not remarkable in any way. Also the pseudo-romance with the older woman was a bit weird. Also, the main kid is played by the same actor who plays Worf's son Alexander in Star Trek: The Next Generation, which made me not want to watch the movie, but thankfully he's a lot better in this movie.
[Jun 10] "The Cobbler" (2014)

Adam Sandler plays Max Simkin, a dissatisfied cobbler who has inherited his family trade. One day, he discovers that he can make shoes which allow him to transform into other people, and he ends up having adventures but also landing himself in a bunch of trouble, and he has to learn that no matter who he can become, he needs to be comfortable in his own shoes first. I wanted to watch this movie mainly because it was directed by the guy who did Spotlight, which I really liked, and this seemed like a feel good magical realism type movie, which I usually like. I did like it, although it wasn't really comparable to how good Spotlight was. The ending was a little ridiculous, but that's okay. Adam Sandler did a good job, he wasn't too comedic, and both Steve Buscemi and Dustin Hoffman were great.
[Jun 10] "Sweet Home Alabama" (2002)

Melanie (Reese Witherspoon), a New York based fashion designer returns home to Alabama to get a divorce from her estranged husband to marry her fiancé, the son of the Mayor of New York City. However, despite being away for seven years, she quickly realizes how well she fits in in Alabama, and begins to reevaluate her life. I didn't realize this was going to be a romantic comedy before I watched it, I thought it would be more of a coming of age type story. But this is actually a pretty standard romantic comedy. I liked the setting and side characters – small town humor is always great, but the main characters and plot were pretty stereotypical.