Movies Watched: Jun 12 – Jun 18, 2016
[Jun 12] "Kate and Leopold" (2001)
Kate (Meg Ryan), an executive with a soulless job, meets Leopold (Hugh Jackman), the 19th century Duke of Albany who has come through a rift in space time discovered by her ex-boyfriend. Initially they don't get along, but then they fall in love. This was a terrible movie, I don't have much to say about it. Meg Ryan plays an absolutely awful character as usual (our current theory is that she plays such terrible characters so that women can think "if she could get that guy, so could I") and I don't understand why anyone would be in love with her. Hugh Jackman is fine, but he's supposed to be the perfect guy. The dialogue is terrible. I found the side characters and the mechanics of time travel interesting, but there's pretty much no time spent on that.
[Jun 12] "The Manchurian Candidate" (2004)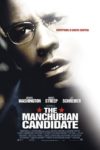 Raymond Shaw (Liev Schreiber) is a celebrated war hero and rising political star from a dynasty of politicians. As he makes a bid for the vice presidency, his former commanding officer Ben Marco (Denzel Washington) and other squadmates who Shaw supposedly saved struggle with nightmares of brainwashing and the strong sense that their memories are wrong. I really enjoyed this movie. Both Washington and Schreiber play tortured men very, very well. Meryl Streep is absolutely terrifying as Shaw's mother and fellow senator. The movie is paced very well, it's a tense thriller that always has you feeling a little anxious, and it never lets you down when things are revealed. I've never seen the original movie or read the book that this is based on, I understand that there are significant differences, but I think it stands very well on its own.
[Jun 12] "The Ref" (1994)
When small time thief Gus (Denis Leary) takes dysfunctional couple Caroline and Lloyd (Judy Davis, Kevin Spacey) hostage, he gets way more than he bargained for as they seem more interested in hurting each other than anything else. If that wasn't bad enough, their in-laws and son show up for Christmas dinner, and they're even more dysfunctional. This was a Christmas movie in a twisted sort of way, so things don't turn out too badly in the end. Kevin Spacey can deliver cutting remarks like no one else, and Denis Leary plays the hapless Gus very well as he alternates between annoyed at his situation, disgusted at the lack of communication within the family, and scared of being caught. I wouldn't say this was a great movie, but it was entertaining.
[Jun 13] "Mission: Impossible III" (2006)
Our favorite IMF agent Ethan Hunt is back, this time chasing after a villainous arms dealer who comes after his wife (yes, he has a wife now) in response. We watched the first two Mission: Impossible movies a while ago (before I started reviewing movies on this blog) and let the franchise drop for a while. The first two were pretty different from each other in tone, and this one changes the tone significantly as well, but it also makes it a lot less unique. This was J.J. Abrams' film directorial debut, and it has the usual slick action and fast pace that he's used in most of his movies. I think it also makes sense that it ended up being more generic, that's what the Abrams Star Trek and Star Wars movies felt like to me too. Anyway, it was fun, and I liked seeing Philip Seymour Hoffman as the bad guy.
[Jun 13] "Life With Mikey" (1993)
Michael Chapman (Michael J. Fox) was once a famous child actor with his own sitcom about being an incorrigible troublemaker. Now he runs a children's talent agency with his brother Ed (Nathan Lane), but he hasn't really grown up at all. When he meets Angie, a charismatic and talented kid who could make him a fortune, he signs her, but soon realizes that she's going to be a much bigger pain than he was prepared for. This movie is not exceptionally well made or anything like that, but it's really cute and heartwarming and the characters make it great. You'd think there was no one better than Michael J. Fox at being incorrigible, but Christina Vidal does an excellent job as Angie. I love Nathan Lane too, and he's also great as the long suffering but responsible part of the operation. Plus, David Krumholtz (in his debut) is delightfully obnoxious as Barry, the agency's spoiled star.
[Jun 14] "Mission: Impossible – Ghost Protocol" (2011)

The IMF is shut down after the Kremlin is bombed during an infiltration, and Ethan Hunt and his new team have to go rogue to get themselves cleared of blame. This movie follows the style established by Mission: Impossible III and is pretty much just another slick action movie, but as always, it's fun. Pixar director Brad Bird does a great job with his first live action movie. I liked seeing Simon Pegg's character return (with new skills!) from the previous movie, and Jeremy Renner is great as usual too (he seems to be in all the action franchises these days, he's in Bourne and The Avengers too). My only complaint with this movie (and it's not a real one) is that Josh Holloway should have been a member of the team, his death (not a spoiler, it opens the movie) was really sad because I enjoyed seeing him so much. Also, I didn't find the villain very memorable.
[Jun 15] "Mission: Impossible – Rogue Nation" (2015)
The IMF is disbanded yet again, this time by slimy CIA director Hunley (Alec Baldwin) and its members are absorbed into the CIA. Ethan Hunt is branded a traitor and goes on the run while trying to stop a shadowy criminal organization called The Syndicate that no one else believes in. As usual, there's great action (Tom Cruise actually strapped himself to the side of a plane as it was taking off, which is pretty amazing), and it's slick and fast paced. It's nice to see a majority of the team be people that we know from the franchise – Ving Rhames is back, as are Simon Pegg and Jeremy Renner. The villain (played by Sean Harris, who I'd never heard of) actually has some presence this time, and new addition Ilsa Faust (played by Rebecca Ferguson) is great as the femme fatale with ambiguous loyalties. I wish the IMF hadn't been disbanded yet again though, it felt too similar to the last movie.
[Jun 16] "Rumor Has It…" (2005)
Sarah Huttinger (Jennifer Aniston), a recently engaged woman having an crisis of purpose, discovers that her family in Pasadena was the inspiration for the movie The Graduate, and decides to track down Beau Burroughs (Kevin Costner), the real life Ben Braddock. Her new obsession might just cost her her fiancé Jeff (Mark Ruffalo) though. This movie wants to be a coming of age movie, but it's really a romantic comedy. I felt like all the female characters seemed like real people, but the male characters were just archetypes (which is unusual, but still not good.) Plus, I thought things worked out much too well in the end, the movie seemed to be advocating for men being doormats no matter how their partners treated them (both with Sarah's story and her mom's.) I don't think I'll be watching this movie again.
[Jun 17] "Matchstick Men" (2003)

The lives of Roy (Nicolas Cage), a con artist with mental health issues and his business partner Frank (Sam Rockwell) are disrupted when Roy discovers he has a teenage daughter and endeavors to have a relationship with her. This movie is terrific! Nicolas Cage is fantastic as the quirky but sympathetic Roy, I think he's one of the most underrated actors today. Roy is agoraphobic and obsessive compulsive, and he doesn't really know how to have a relationship with his daughter, but he really does care. Alison Lohman plays off Cage very well as his daughter Angela. And Sam Rockwell melts into his role as always. Of course, it's a movie about con men, so there are a lot of twists and turns, and as with any good con movie, all the clues are in plain sight all along. It's one of the best examples of the genre, and unusually for a con movie (and a Ridley Scott movie), it's also really heartwarming. Highly recommended.
[Jun 18] "Toys" (1992)

When Kenneth Zevo, owner of Zevo Toys, dies before his son is ready to inherit the company, he leaves the company to his militaristic brother General Leland Zevo. The General changes the entire direction of the company from whimsy to war, so Kenneth's children Leslie (Robin Williams) and Alsatia (Joan Cusack) have to grow up and figure out how to stop him, with the help of a couple of other employees. This is one of the weirdest movies I've seen, it's very surreal and whimsical (apparently it's inspired by René Magritte's art, which I'm not very familiar with. Watching this movie was definitely an experience, and clearly a lot of thought went into its look and tone. It's always a pleasure to watch Robin Williams, and Joan Cusack was terrifically kooky too. Unfortunately, I think the movie wasn't paced very well – some of the scenes were pretty long and boring, and even though the characters were interesting, they were a bit too weird to have much investment in. So it wasn't a great movie, but it seemed like a great vision, and I'm glad it was made.