Weekly Movie Reviews: May 21-27, 2017
Favorite Movie of the Week
Empire of the Sun (1987)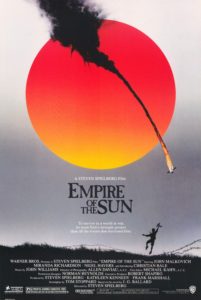 Empire of the Sun is adapted from the semi-autobiographical novel by J.G. Ballard about Jim Graham, a boy who ends up going from living in luxury in Shanghai to being separated from his family and becoming a prisoner of war in a Japanese internment camp for years. It's directed by Steven Spielberg, who outdoes his usually brilliant self.
Jim is played by a 12-year-old Christian Bale, and he's probably the best child actor I've ever seen. He perfectly plays a sheltered and precocious kid who tries to survive the (often horrific) events around him without anyone to support him, doing his best to stay sane with a sort of nervous energy. There's something extra stark about viewing war through a child's eyes – Jim doesn't really care who wins or what the political implications are, or if something is morally right, he just wants his life to be predictable and at least living in an internment camp gives him that. The supporting cast is wonderful, especially Jim's quasi-protectors, John Malkovich as Basie and Nigel Havers as Dr. Rawlins.
Spielberg's best known movies about World War II are Saving Private Ryan and Schindler's List, and those are both very good, but I think Empire of the Sun outdoes them both for its unique perspective and near-flawless execution.
Other Movies Watched
The Prestige (2006)

I loved The Prestige when I first watched it, but I barely remembered it. After re-watching it, I think it might be Christopher Nolan's best movie so far. Robert Angier (Hugh Jackman) and Alfred Borden (Christian Bale) are stage magicians and bitter rivals, both fiercely dedicated to their craft. When Borden debuts a new trick that Angier cannot figure out, he goes to extreme lengths to do better than him. Christian Bale and Hugh Jackman do an amazing job of playing their insanely obsessive characters, and David Bowie is fantastic as Nikola Tesla. I don't want to spoil any of the revelations in this movie, but I think they're all genius (I know it's from the book, which I also liked, but the way they're revealed in the movie is genius, too). This is the first time I'd watched the movie after I knew what was going on, and there's a lot of foreshadowing that I didn't notice the first time around – that's part of what makes the movie so good, you'd just be annoyed if things came out of nowhere.
Logan (2017)

Ever since I watched the trailer for Logan (with that great Johnny Cash cover of Hurt), I've been really excited to watch it. It didn't look anything like any other X-Men movie (or any superhero movie, really). It ended up being even better than I wanted it to be, it's definitely one of the best superhero movies ever made. It's set in a 2029 where mutants have stopped being born, Logan works as a luxury chauffeur, and Professor X has a degenerative brain disease and is in hiding. And the movie isn't about changing the past, or fighting a big bad enemy that wants to destroy the world, it's an intimate drama about a slowly dying Logan having to protect a new mutant from an organization that wants her dead. Every detail about the movie is terrific – the acting (including the young girl who plays X-23, Dafne Keen), the atmosphere, the pacing, the action. Watch it, it's the perfect send-off for Jackman's Wolverine, and just might be the first superhero movie to make you cry.
The Good, the Bad and the Ugly (1966)

I'm a big fan of Westerns, but I hadn't watched many of the classics from the 50s and 60s. The Good, the Bad and the Ugly stars Clint Eastwood, Lee Van Cleef, and Eli Wallach as the titular trio – a bounty hunter, an assassin, and an outlaw. They're all after a treasure buried in a remote cemetery and are racing to get there. But it's the middle of the Civil War, and they have to get past both Union and Confederate troops, as well as each other. I thoroughly enjoyed this movie, it's slow and takes a while to build up, but it's an epic. Most Westerns I've watched centered around a hero saving a town from a villain, so it was nice to see a different kind of story – with such great characters too! The incorporation of the Civil War was good to see too, it helped ground the movie in history. I'm looking forward to watching more of Sergio Leone's work.
Singles (1992)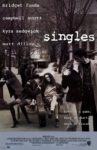 Singles is a romantic comedy about a group of 20-somethings who live in the same apartment complex in Seattle. It reminded me a lot of Reality Bites, it was about slightly older people, but it had a similar structure of focusing on a single couple (Linda and Steve, played by Kyra Sedgwick and Campbell Scott) while also telling the stories of a few of their friends. I've enjoyed most of Cameron Crowe's movies, and I thought this one was pretty good, too. All of the characters are different in terms of profession and lifestyle and that made the movie seem like it was telling a larger story about a generation (although the secondary characters were more dramatic than in Reality Bites). Also, Matt Dillon's character is in a band, and the rest of the band is played by members of Pearl Jam (before they got famous), so that was fun to watch.
Battle for Terra (2007)

I haven't watched a lot of indie animation, so I was looking forward to watching Battle for Terra. Our protagonist is a rebellious alien girl, Mala, who lives an idyllic life on her home planet. Her home is suddenly invaded by an unfamiliar hostile force – humans (who are looking for a new home to terraform after destroying Earth, Mars, and Venus). Both species require different atmospheres, so a war seems inevitable, unless Mala and the human pilot she saved can figure out a way to stop it. This movie is pretty simple and can get preachy on occasion, but I thought it was really cute. It doesn't shy away from depicting war as horrible, but it also shows people (sentient beings?) rising above their instincts. Plus, it's original sci-fi with interesting worldbuilding!
The Wizard of Lies (2017)

Robert De Niro stars in this TV movie about Bernie Madoff, a legendary stockbroker and investment advisor who perpetrated the largest financial fraud in history. I was hoping to see details about the fraud, but the movie ended up being more of a family drama, and it focused mostly on the week the scandal broke, with some flashbacks. The cast is great, but they don't have that much to do, it seemed almost like a documentary, I guess that requires its own kind of good acting, though. Overall, The Wizard of Lies didn't make much of an impression on me, good or bad.
Beauty and the Beast (2017)

I've been skeptical about the live-action remake of Beauty and the Beast ever since it was announced, even though I enjoyed the recent live-action Jungle Book. The animated version is one of my husband's favorite Disney movies, so we've watched it together a couple of times. The remake is definitely well-made, it has great production value, the music is mostly good (Emma Watson was obviously auto-tuned, which was hard to listen to), and the acting was good, but I didn't think there was any good creative reason for the film to be remade. The Jungle Book actually told its story in a new way, but this movie was too faithful to the original to be interesting. Also, the auto-tuning was awful – they should have either cast someone who could actually sing, not auto-tuned Emma Watson (even if that made the song sound different), or dubbed Emma Watson's singing voice.