Weekly Movie Reviews: Nov 5-11, 2017
Favorite Movie of the Week
Whale Rider (2002)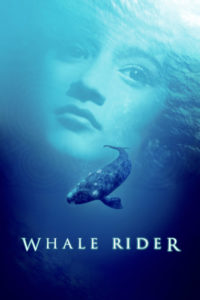 Twelve year old Māori girl Paikea comes from a long line of chiefs and has the ambition to become chief herself. Her traditional grandfather Koro refuses to entertain the idea, believing that the role is reserved for males only. When Paikea's father makes it clear that he has no interest in fulfilling his duty to move back home and assume leadership, Koro decides to choose a new heir from one of the boys of his community. Paikea refuses to give up, though, no matter how much humiliation she has to go through.
Whale Rider is a fantastic movie. Keisha Castle-Hughes (until recently the youngest nominee for the Best Actress Oscar) does an incredible job as Paikea, conveying both the wisdom, ability, and confidence of a born leader and the vulnerability of a young girl. She steals every scene she is in. I don't think I've seen such an amazing performance by a child actor since Christian Bale in Empire of the Sun.
I did not know anything about Māori life or culture and the movie drops you straight into Paikea's life without much context but I never felt lost. The tone of the movie almost seemed like the telling of an ancient myth, even though it was firmly rooted in reality and most of it is just watching Paikea live her everyday life. It's definitely a movie I'll be re-watching multiple times.
Other Movies Watched
Song of the Sea (2014)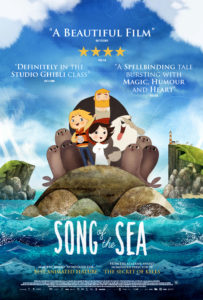 Saoirse, a young Irish girl, lives in a lighthouse with her father Conor and older brother Ben, both of whom have been heartbroken since her mother disappeared after giving birth to her. Saoirse is the last of the selkies (mythological women who can transform into seals) but as she comes into her powers, her family worries that she's not in a safe environment. Eventually her grandmother ends up taking her and Ben to the city to live with her. But the faerie world around them is slowly being destroyed by the witch Macha, and only a selkie can reverse the damage. Ben must put aside his animosity towards Saoirse and help her escape and restore the faeries to their rightful place.
I'd heard great things about this movie (and The Secret of Kells, also by Tomm Moore, the same director, and his studio Cartoon Saloon) for a long time and it absolutely lived up to the hype. The animation is a little basic but has its own interesting style. The story has oodles of heart and emotion, and it avoids being too simplistic or black and white, despite being a children's story. I will be closely following Cartoon Saloon's releases and I can't wait to watch The Secret of Kells.
Brooklyn (2015)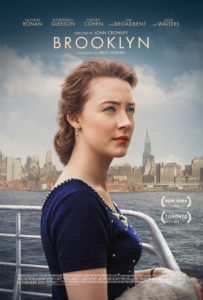 Brooklyn tells the story of Eilis (Saoirse Ronan), a young Irish woman who immigrates to the United States in the 1950s. She's homesick and bewildered at first, but settles in eventually and even falls in love with a local young man. However,  her life gets complicated when she travels back to Ireland for a visit and she must make some hard choices.
As an immigrant who feels much more at home in the United States than my country of birth, I'm partial to stories about immigrants finding their place in American society. However, this would have been a wonderful movie even if I hadn't been biased in its favor. I loved the characters, especially Eilis who is restrained and shy in a way we don't often see in film. Saoirse Ronan conveys so much without saying a word, though (she got an Academy Award nomination for her role). Everything else about the movie is superlative as well; I can't think of anything specific to highlight because it's all so good: the acting, the writing, the storytelling, the pacing, the worldbuilding, and yeah, just everything.
About Time (2013)
On his 21st birthday, Tim discovers that he shares a secret family gift of being able to time travel spontaneously. He immediately realizes that he can use this ability to go back in time and fix mistakes that he made, erase embarrassing moments, and do better with women, all of which he proceeds to do copiously . Eventually he realizes that even with a reset button, there are still plenty of problems he cannot solve.
About Time is written and directed by Richard Curtis, whose bread and butter is romance (he wrote Four Weddings and a Funeral and Notting Hill and wrote/directed Love Actually) and this is no exception. It's cute and heartwarming – Domhnall Gleeson and Rachel McAdams have excellent chemistry and are generally a pleasure to watch. Bill Nighy is also great as Tim's easygoing but wise father.
Jane Eyre (2011)
An adaptation of Charlotte Bronté's 1847 novel of the same name, Jane Eyre follows the eponymous heroine from her early life as a child living with abusive relatives until she finally finds her place in the world.
I haven't read Jane Eyre or watched any previous adaptations of the book so I can't comment on how faithfully it adapted the original material. I thought it was a very well-done movie, though. Director Cary Fukunaga (Sin Nombre, Beasts of No Nation) is skilled at completely pulling you into the world that the characters live in and in his capable hands, the gloomy Gothic atmosphere of the story is almost a character in itself. Mia Wasikowska brings both quietness and drama to her portayal of Jane Eyre, and Michael Fassbender revels in his brooding and intense role of Mr. Rochester. The only reason that I didn't entirely love this movie is that I don't find the source material very interesting; it's a little bit too melodramatic for my taste.
Dirty Rotten Scoundrels (1988)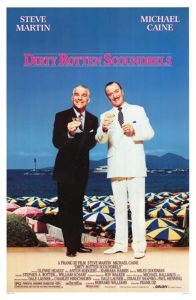 Suave and refined con man Lawrence Jamieson (Michael Caine) has had a comfortable life defrauding wealthy older women in the resort town of Beaumont-sur-Mer on the French Riviera. His luck runs out when Freddy Benson (Steve Martin), arrives in Beaumont-sur-Mer intending to pull the same sort of scams. Freddy is an uncouth and loud American (the polar opposite of Lawrence) and they are quickly at odds with each other. When heiress Janet Colgate (Glenne Headly) comes to town, they decide to settle their differences with a bet on who can scam her out of $50,000 first, and increasingly bizarre hijinks ensue.
Dirty Rotten Scoundrels is a decent comedy, even for people like me who aren't the biggest fans of the genre. Steve Martin's character is extremely obnoxious but he's treated as such in the movie so that made it bearable. Michael Caine's understated character is a terrific foil to Steve Martin's antics; I don't think I have seen him in a primarily comedic role before but he's got good comic timing. I wasn't sure where the movie would go at first but I thought that the ending was perfect.