Weekly Movie Reviews: Jun 25-Jul 1, 2017
Favorite Movie of the Week
The Edge of Seventeen (2016)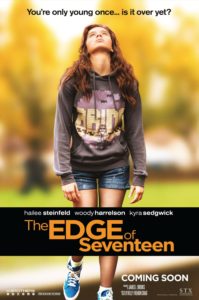 I was excited to watch The Edge of Seventeen because it got great reviews. Going into a movie with a lot of hype usually leads to disappointment regardless of how good it is, but there are rare occasions where a movie manages to live up to your expectations. Fortunately, this was one of those occasions.
The tagline for this movie is "You're only young once… is it over yet?", which pretty much sums it up. Nadine (Hailee Steinfield) is a high school junior who already finds her life unbearable enough – her dad has been dead for a few years, her mom is self-involved and doesn't care about her problems, her brother is handsome and popular and can't understand what she's going through, and she has a crush on somebody who doesn't seem to know she exists. To make things worse, her best (and only) friend starts dating her older brother so now she doesn't have any friends either.
The plot of this movie doesn't really matter. It's a coming of age story, but what makes it unique is the visceral exploration of what it's like to be a teenage girl and it does a better job of it than any other movie I've seen. The combination of thinking the world revolves around you but being crippled by self-esteem issues, the constant need to define your identity, post-pubescent hormones that you haven't gotten used to yet pushing you in directions you would never normally go – I didn't think they could be represented in film so well. The credit goes to both Hailee Steinfield and writer/director Kelly Fremon Craig (in her directorial debut), and I expect even greater things from both in the future.
Other Movies Watched
5 Centimeters per Second (2007)

Makoto Shinkai is one of Japanese animation's most famous names – Wikipedia describes him as a "director, writer, producer, animator, editor, cinematographer, voice actor, manga artist and former graphic designer". We've been meaning to watch all of his movies, but the recent release of the critically acclaimed Your Name pushed us into action. We're watching the movies in the order they were released, and 5 Centimeters per Second is his third film. It's only an hour long and it's a series of three connected short films set a few years apart and focusing on a boy named Takaki as he grows up. It's a bittersweet story and it pulled me in emotionally without me noticing until the end. I highly recommend it.
Romeo + Juliet (1996)
Romeo + Juliet was one of the earliest movies my husband and I tried to watch together, but I wasn't a fan of movies back then and found it too cacophonous and overwhelming. It is an adaptation of Shakespeare's play, set in modern California with a soundtrack of modern songs. The dialogue, however, is not modern – it all comes directly from the play, sometimes interpreted quite creatively. The Montagues and the Capulets are reinterpreted as bitterly feuding Mafia families, the weapons are guns with brand names like "Sword" and "Dagger", and so on. Romeo and Juilet are played by Leonardo DiCaprio and Claire Danes, and I can't think of better casting than that, especially in the mid-90s. The whole movie rests on them, and they've both been fantastic actors ever since they were young, they make the archaic dialogue sound completely natural. It's still a pretty cacophonous and overwhelming movie, but it's also brilliant.
Big Night (1996)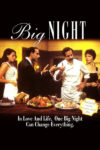 Stanley Tucci co-wrote, co-directed (in his directorial debut), and starred in this movie about two Italian brothers Primo and Secondo (played Tony Shalhoub and Tucci, respectively) who organize a big party involving a famous musician in a bid to save their failing restaurant. I thought this would be one of those feel-good indie dramas, but it's not really about the restaurant, it's a serious exploration of the immigrant experience (the movie is set in the 1950s) and the relationship between the brothers. Primo is fiercely proud of his cuisine, his culture, and his talents, whereas Secondo is more pragmatic and tries to integrate into American life a little more. Tony Shalhoub and Stanley Tucci both do a fantastic job, and the rest of the cast (including great actors like Ian Holm, Allison Janney, Minnie Driver, Isabella Rossellini, and co-director Campbell Scott) are excellent too. Also, if you look closely, you can spot a young Liev Schreiber in one of his earliest roles.
The Place Promised in Our Early Days (2004)
This is Makoto Shinkai's second movie (and first full-length movie) after his solo effort Voices of a Distant Star. It's set in an alternate history where Japan was divided into two occupation zones – Russian and American. We follow three friends, Hiroki, Takuya, and Sayuri in the American zone who are captivated by a tall tower on the Russian side and promise each other to fly to it to see what it is. When Sayuri disappears one day without saying goodbye, Hiroki and Takuya grow apart and abandon their promise, but three years later, Takuya can't just let it go. The only complaint I had about this movie was that the pacing was a little slow. After we watched it, my husband described it as "a mix of Studio Ghibli and Evangelion", and I think that's spot on (in a good way). The plot and the younger versions of the characters reminded me of a lot of Ghibli movies, especially since it centered so much on flying, and the worldbuilding and older versions of the characters seemed like they could fit comfortably in the Evangelion mythos.
Hollywood Homicide (2003)
Harrison Ford and Josh Hartnett play LAPD detectives investigating the murder of a up and coming hip hop group in a crowded club. This is a pretty standard buddy cop comedy and it pokes fun at cops, LA culture, the entertainment business, and so on. Harrison Ford's character is a real estate agent and Josh Hartnett's character is a yoga teacher/aspiring actor, and they both have a little bit of trouble keeping their off-duty lives out of their jobs. I was hoping that director Ron Shelton would make this movie as engrossing as his sports films, but, despite being fun, it turned out to be fairly unmemorable. Maybe I would have been more impressed with this movie if I hadn't seen Kiss Kiss Bang Bang and The Nice Guys, but Shane Black fills this niche way better.
Austin Powers: International Man of Mystery (1997)
I knew before we watched this that the Austin Powers movies weren't really my type, but they're a cultural phenomenon and I wanted to get around to watching them someday. If for some reason you haven't heard of them, they're James Bond spoofs (based mostly on the 60s Bond movies, with a healthy dose of hippie culture mixed in), written by and starring Mike Myers (in multiple roles). I'm glad we watched a bunch of the Connery Bond movies before watching this, I got a lot more of the jokes. But overall, the humor is pretty crude and much of it comes from taking a joke so far that it's so much past the point of not even funny anymore that it's supposed to become funny again, I guess. I'm glad I watched it because now I can get references to it, and we'll probably watch the other two movies eventually, but not because they're good.
I would have put this below Michael on the list based on enjoyment, but at least this movie knew exactly what it wanted to be and succeeded, whereas what Michael wanted to be was unfathomable.
Michael (1996)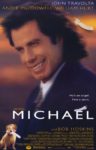 This is a terrible, terrible movie about two tabloid reporters who investigate a claim that the archangel Michael has been living in Iowa for a few months. To their surprise, it turns out to be true, but the real Michael is hardly angelic – he chain smokes, he picks up women everywhere he goes, and he's played by John Travolta. For some reason when I watched this movie, i almost felt like I was watching a movie from an alternate Earth where everyone was operating under a different set of assumptions than our Earth, but I can't be more specific than that the movie felt off somehow. The actors do a fine job with the material they have, and I know Nora Ephron is a good director usually, but this was a dud.