Weekly Movie Reviews: Oct 22-28, 2017
Favorite Movie of the Week
Australia (2008)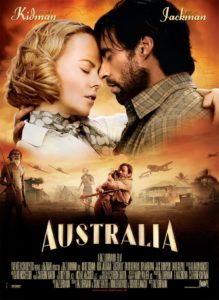 Lady Sarah Ashley (Nicole Kidman), an English aristocrat, arrives in Australia to encourage her husband to sell Faraway Downs, their cattle ranch, and return to the U.K. with her. She is escorted to the ranch by boorish stockman Drover (Hugh Jackman) only to find that her husband is murdered in takeover attempt by King Carney, who would enjoy a monopoly on beef if not for Faraway Downs. She becomes determined to finish her husband's work but she will need the help of Drover as well as the Aboriginal people that work on the ranch to do so.
I absolutely loved Australia. It feels like a sweeping epic, even though it only focuses on a few events; it's got adventure, war, drama, romance, tragedy, a good sense of humour, heartwarming relationships, reprehensible villains, and tells an enormously satisfying story with it all. I don't know much about Aboriginal culture and having Aboriginal characters be such a critical part of the movie was both educational and contributed to the epic tone of the movie. Nicole Kidman and Hugh Jackman's chemistry is undeniable and they're both very good actors on their own, too. I'm not sure how they found the kid who plays Nullah but he's the perfect mix of precocious and childlike and you both trust him with adult responsibilities and want to protect him at the same time.
I think the title of this movie is fantastic and conveys a good idea of what the movie aims to do – it's a paean to Australia – its people, its history, the beautiful landscapes, and a whole lot more. It makes you fall in love with it just as Lady Ashley does. I can see myself wanting to re-watch this movie fairly often and I'm already looking forward to it!
Other Movies Watched
Steamboy (2004)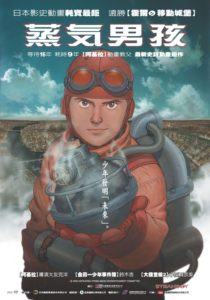 Steamboy is set in a steampunk versions of the 1860s and follows a young British inventor, James Ray Steam, who comes from a family of inventors working mainly on steam-powered technology. His father and grandfather are off in Alaska working on a new prototype of the "steam ball", which can pressurize steam and store energy more efficiently than any other technology of the era. One day Ray receives a package containing the steam ball from his grandfather with strict instructions to keep it safe and is thrust into adventure trying to do so.
This is director Katsuhiro Ôtomo's next movie after the critically acclaimed Akira and is just as spectacular although the tone and style are quite different. It's a classic adventure story with one of the best depictions of a steampunk world I've seen on film. It does a splendid job of showing the wonder and passion experienced by the main characters and inspiring the audience to feel it too. The story has a lot of action and the characters are mostly predictable but that's okay because you're so mesmerized by the other elements on the movie. The animation is beautiful too.
The French steampunk animated film April and the Extraordinary World (which I saw and loved in the beginning of this year) is clearly inspired heavily by Steamboy and you should watch that one too.
Dog Day Afternoon (1975)
Sonny Wortzik (Al Pacino) and Sal Naturale (John Cazale) decide to rob a bank but their plan goes awry and the situation turns into a media circus. The police's attempts to resolve the situation are complicated by a crowd of onlookers expressing support for the robbers and the hostages' growing rapport with Sonny.
Dog Day Afternoon is based on a true story, including some of the more seemingly outlandish details like Sonny's motivation for the robbery. It juggles tones admirably; sometimes it seems like a comedy, especially when we (and the characters themselves) realize that Sonny and Sal are in way over their head, other times it's a subtle farce of how the media covers stories, but there is an undercurrent of seriousness all the way through. Al Pacino practically oozes charisma and wins over the onlookers, the hostages, and the audience alike and that's a big part of the charm of this movie. Actually, all the actors speak volumes even when they aren't saying anything.The storytelling is taut, keeping up the tension without heading into thriller territory. It feels surprisingly modern, especially the treatment of Sonny's sexuality and personal life.
John Wick: Chapter 2 (2017)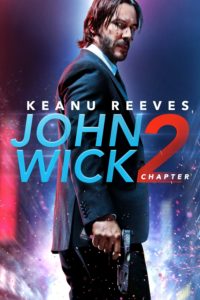 A couple of days after the events of John Wick, John heads back home to bury his guns and try and figure out what he's going to do with his life. But his brief return to the criminal world has not passed unnoticed, and an old acquaintance comes knocking on the door to call in a marker. John is forced to take the job but that sucks him in further and he soon finds himself on the run and surrounded by enemies at every turn.
This is one of those rare sequels that is as good as if not better than the original movie. It takes everything interesting about John Wick and expands on it. The worldbuilding continues to be compelling, we see a lot more of the world as John travels to Italy and has to replenish his stocks heavily. I love the characters too – John's taciturn professionalism is delightful and Ian McShane, John Leguizamo, and Laurence Fishburne (among others) steal every scene they are in. The action is stylish and fun, which makes sense since these movies are directed by Chad Stahelski, who has had a long career working on stunts (fun fact: he was Keanu Reeves' stunt double in the Matrix series). The ending is fantastic and establishes a cohensive universe with characters that actually change in response to the events around them, which is something action franchises don't traditionally do; usually it's just a repetition of the same formula in each sequel. After watching that ending, I can't wait for John Wick: Chapter 3 in 2019, especially since the same writer and director as the first two movies are working on them.
Beetlejuice (1988)
Young couple Adam and Barbara Maitland die suddenly in a car crash but continue living in their house as ghosts as they adjust to being dead and all the rules that come with it. They are quite happy until their home is sold and the (living) Deetz family moves in and start to redecorate the house. The Maitlands attempt to scare them away but all the things they do just intrigue the Deetzes more, especially their teenage daughter Lydia. In desperation they turn to Betelgeuse, a "bio-exorcist", but he's got his own sinister agenda.
This movie is bananas and I mean that as a compliment. It's got director Tim Burton's signature bizarre/creepy aesthetic and surreal atmosphere, but from before it started to feel stale. Michael Keaton chews scenery like a pro as Betelgeuse and makes ample use of his terrific comic timing. The other actors seem like they're having a blast too, especially (a young and handsome) Alec Baldwin and Geena Davis at the Maitlands and Winona Ryder as the goth-ish Lydia Deetz. There a bunch of memorable scenes that are great even without any context, see this scene at a dinner party given by the Deetzes for instance.
Hollywood just doesn't make movies that are proudly wacky like this anymore; I wish they did!
Beatriz at Dinner (2017)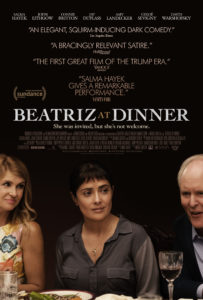 Masseuse Beatriz (Salma Hayek) has just finished a session with Kathy, one of her wealthy clients, but her car won't start as she's leaving to go home. Kathy is hosting a dinner party for her husband's clients and invites Beatriz to stay for it. Beatriz considers herself a holistic healer living in harmony with the world around her, but her worldview clashes violently with that of the other dinner guests, especially real estate mogul Doug Strutt (John Lithgow). Both Beatriz and Doug are not shy about volunteering their opinions, leaving the other guests caught in the crossfire.
Beatriz at Dinner does an excellent job of showing us the world as Beatriz sees it – uncomfortable, missing obvious truths, and somehow filled with pain – without much judgement or agenda. Whether you find Beatriz sympathetic and the guests around her morally reprehensible, or you think she is going off the deep end and taking things too seriously, the film still works for you. There are a thousand different things under the surface of the characters' conversations and it all feels almost viscerally awkward to watch because it's so realistic. The ending was not what I expected of this movie at all but I thought it worked perfectly.
Taken (2008)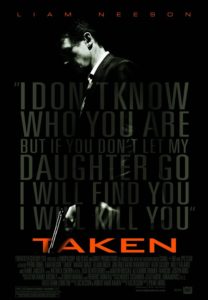 Bryan Mills (Liam Neeson) has retired from the CIA and moved to California in order to spend more time with his estranged daughter, Kim. When she leaves for a trip around Europe, he finds it hard to let her go and not be over-protective of her. When she reaches Paris, his worst nightmares come true when she is kidnapped by a gang of human traffickers. He must use his "particular set of skills" acquired during his time in the CIA to get her back.
I was skeptical of Liam Neeson as an action star but finding out that this movie was written by Luc Besson made me a little more interested in watching it (especially since I loved 3 Days to Kill, another movie written by Besson about an older CIA agent reuniting with his daughter in Paris, and I just love Besson in general). I'm not sure why this movie got all the hype it did (and two sequels and a TV show). Maybe because Neeson's character is a soft-spoken and innocuous seeming guy that can quickly switch to being deadly (this was also when Breaking Bad started airing and Walter White was popular for similar reasons)? In my opinion, Taken is a run-of-the-mill action thriller with no real attention to detail and nothing that stood out as particularly special.