"Provenance" by Ann Leckie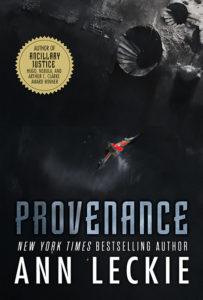 I'm a big fan of Ann Leckie's Imperial Radch series (see my reviews of Ancillary Justice and Ancillary Mercy) and I was ridiculously excited about Provenance, which is a standalone story set in the same universe but focusing on entirely different characters.
Ingray, the daughter of an influential politician on the planet Hwae, has spent her whole life trying to prove to her mother than she is worthy of being named her heir. She comes up with a brilliant but risky plan – breaking notorious thief Pahlad Budrakim out of prison and convincing them to reveal the location of the historically significant items ("vestiges") they stole, which would make her a hero on Hwae. However, her plans are derailed when an important dignitary from another planet (and her mother's house-guest) gets murdered and the newly recovered Pahlad is the prime suspect.
I wasn't sure how to feel about Ingray; she is one of the least power-hungry characters I've encountered but her initial motivation is to be named her mother's heir. Plus she constantly doubts herself and her emotions overwhelm her at several points (it makes sense because she keeps going from situation to situation where she is out of her element, but most science-fiction books don't focus on the emotional ramifications of a character being under continuous stress). She does change over the book in a realistic way and comes to terms with who she is so I found her arc ultimately satisfying.
As with Ancillary Justice, you can't rely on your assumptions about gender conventions; humans on Hwae have a third gender and that's just part of Ingray's world. The book throws you straight into Ingray's life and leaves it up to you to figure out her world and culture from context clues. There isn't much exposition in the rest of the book either, which took a little bit of getting used to but I appreciated it in the end.
Provenance reminded me more of Becky Chambers' Wayfarers books (The Long Way to a Small, Angry Planet and A Closed and Common Orbit) than Leckie's previous trilogy. Despite its setting, It's more of a coming-of-age story and a cozy mystery than a space opera. The characters are mostly all nice people that care about doing their job well, which is refreshing to read about but also lowers stakes and sucks much of the tension out of the story. But Leckie's core strengths of creating an immersive world and setting up political intrigue with characters you care about make this a great read anyway.